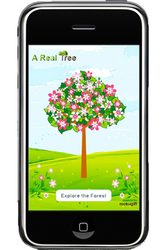 A much higher fraction of passengers from the cheaper decks were lost. We'll see the same phenomenon with global warming.
San Francisco, CA (PRWEB) December 3, 2008
Mokugift is announcing 'A Real Tree' application, available on the iTunes AppStore, which makes tree-planting as easy as buying your favorite song. With the click of a button iPhone or iPod touch owners can buy 'A Real Tree', by Mokugift, trees are then planted by partners, who are award-winning tree-planting organizations in 12 countries fighting deforestation and poverty: Belize, Honduras, Nicaragua, Panama, Cameroon, Ethiopia, Burundi, Senegal, Zambia, India, Philippines, and Haiti. Academic research shows that tropical trees are more beneficial to global warming, than trees in regions outside of the tropical zone. Some of the various trees that are planted are Orange, Banana, Coffee, Cocoa, Cedar, Teak, Mahogany, Acacia, Oak, and Eucalyptus. These particular trees help the community to thrive because they assist the locals to create a healthy sustainable lifestyle.
This new application can be used on the iPhone and the iPod touch. The 'A Real Tree' application by Mokugift, is a simple way that we can all help to fight the effects of global warming, collectively. As Global warming becomes more apparent, more people want to do their part to influence change, yet so many of us are not sure what to do. Buying 'A Real Tree' application, by Mokugift is a simple thing that anyone with an iPhone can do to help this effort. The message to go green is being spread across the globe, and more people are becoming empowered to make ethical decisions to preserve our precious planet.
iPhone Owners Can Help:
"Like the sinking of the Titanic, catastrophes are not democratic," said Henry I. Miller, a fellow with the Hoover Institution at Stanford University. "A much higher fraction of passengers from the cheaper decks were lost. We'll see the same phenomenon with global warming.".

There is hope. There are over 13 million iPhone users, and if every iPhone owner planted a tree, the environmental achievement would be equivalent to taking 500,000 cars off the road. By doing this together we can all have a much larger impact. 'A Real Tree' by Mokugift, is priced at $0.99. For the price of a song, those of us fortunate enough to own an iPhone and iPod touch can help people that are less fortunate, and help the environment all at the same time. Poor people in 3rd world countries are not empowered to fight global warming, yet they will bear the brunt of the impact of global warming: drought, loss of coastline and arable land and disrupted water supplies. Their financial constraints may give them a small environmental foot print, while also limiting their options.



How Mokugift Plants Trees and Fights Poverty:
Mokugift teams up with partners who have a unique approach by empowering impoverished communities, to enrich their depleted soil and rebuild their communities while also helping the environment. SHI and TFTF educate farmers about healthy farming techniques, that eliminate the use of toxic fertilizers, while also increasing nutrients in crops. Along with education, SHI and TFTF provide these farmers with seeds and resources. By integrating trees with crops, farmers eliminate their exposure to toxic chemicals and produce nutrient rich crops to sell at the market. The trees help to provide for the people in these communities. Specific trees are chosen based on the climate and what the trees can provide for that particular community. For instance these trees produce food, or some other type of essential resource, that the village people are able to eat or sell.


Mokugift's Award-Winning, Tree-Planting Partners:

Mokugift partners with Sustainable Harvest International (SHI) and Trees For The Future (TFTF). These organizations have won the following awards:
10 Best Managed Environmental Nonprofits, Charity Navigator, 2008
Yves Rocher Women of the Earth award, 2007
Etown E-chievement award, 2004
Green Globe Commendation Winner, 1999
Earth Trusteeship Award, The Earth Society, 1994
The International Award, National Arbor Day Foundation, 1990
Why is Global Warming Such an Important Issue:
Global warming is what scientists refer to as the increase in the average measured temperate of the Earth's ground, and atmosphere, spanning across the entire planet. Our world needs a certain amount of Carbon Dioxide (CO2), however when too much of this gas is in our atmosphere this can lead to a green house effect. When these gases are in the proper balance, life on earth will flourish and our climate will be naturally regulated. Yet, too much a good thing can be a problem because the green house effect heats up the earth, resulting in global warming. Climate change threatens all life on earth by melting polar ice caps, and disrupting valuable eco-systems, which leads to the gradual extinction of plants, animals and even humans.
###