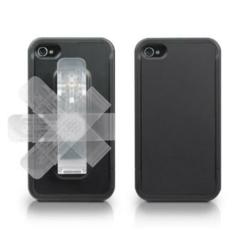 Hollywood, FL (PRWEB) August 04, 2011
Marware releases the SportShell Convertible iPhone 4 Case designed for maximum versatility and functionality. It is now available for purchase directly from Marware.
Engadget recently noted that many of Apple's loyal followers willingly wait in long lines in order to be among the first to get their hands on the techno-giant's latest gizmo. This type of loyalty leaves Apple a lot to live up to, but according to Engadget, "The iPhone 4 is doing its best with features like a super-fast A4 CPU, a new front-facing camera and a five megapixel shooter on the back, a completely new industrial design, and that outrageous Retina Display."
Finding the right case to take advantage of all these features can be tricky. Some iPhone 4 fans have resorted to purchasing multiple cases, each designed for a specific use, while others have discovered the multi-functional and extremely versatile SportShell Covertible iPhone 4 Case by Marware.
The SportShell Covertible iPhone 4 Case is essentially a 4-in-1 model with a 360° rotating clip, armband, armband case, and a tabletop viewing case. These four pieces work ingeniously together to provide the user with secure use of their phone while jogging, working or displaying video.
One Marware fan stated, "The versatility of this case is above the rest without question," while another raved, "Perfect fit and no chance of your iPhone 4 falling off the armband."
The SportShell Covertible iPhone 4 Case is now available directly from Marware.
Marware is an independently owned, U.S. based corporation whose primary focus is designing and producing accessories for Apple, Amazon Kindle, and mobile electronics markets. Committed to quality over price, Marware started a wave of responsibility in the mobile community with an emphasis on environmentally sensible products and charitable giving to distressed communities and ecological causes.
To learn more about Marware and their line of iPhone 4 cases, visit http://www.marware.com/iphone-cases/iphone-4-cases/sportshell-convertible-iphone-4-case.
###