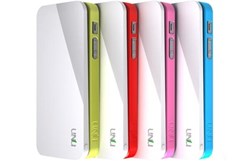 Denver, Colorado (PRWEB) March 07, 2013
According to the company reviewing all extended battery cases for iPhone 5 to find the best products in terms of design, functionality, power and price is a task that's becoming more and more grueling because of the significant offer available today.
This isn't difficult solely on reviewers, but also and mostly on consumers, trying to select the product that will give most bang for their buck.
The http://www.iPhone5BatteryCase.net website, a division of Ironclad Integrity Ltd., is currently reviewing the offer of extended battery cases for iPhone 5, in an attempt to identify the best product. The website has so far released full reviews for the uNu Ecopak iPhone 5 Snap-On Case and Extended Battery, the Mophie Juice Pack Helium for iPhone 5 battery case and Boostcase iPhone 5 Snap Case Hybrid.
iPhone 5 cases with extended battery are virtually new to the market, pertaining to a powerful device owned by users with a significant interest in added battery life. Whether it's for entertainment or business reasons, cases with extended battery for iPhone 5 are getting more and more appealing. These products provide all-round protection and satisfactory design in a Snap-On case that in most cases looks pretty fashion forward as well as extra battery life only when it is needed.
With previous iPhone models, consumers have had a lot more time to consult and try for themselves products until eventually selecting the best protective and battery case. Given Apple's recent release of the iPhone 5 and the 30-pin Lightning connector, accessory makers have presented earlier at CES 2013 a plethora of products compatible with the new change in tech specs as well as the power, protection and design requirements of an iPhone 5.
A recent report available on the website reveals that the market of power and protective accessories for iPhone 5 is currently blooming, every producer trying to offer the client the product that will give most of all worlds. But most of the battery cases presented earlier this year vary greatly in terms of design, battery life and protection. It is obvious, a first-time iPhone 5 accessory consumer is having a hard time knowing which will be the best extended battery case, particularly since reviews for these products tend to be scarce still.
iPhone 5 is a purchase that needs additional investments in terms of protection and battery life. The market that responds to these needs is currently booming but that makes life harder on consumers, particularly when it comes to those on a budget.
iPhone5BatteryCase is a website that delivers accurate and constant news and reviews regarding the latest iPhone 5 cases and battery cases, as reviewers seek to identify the product that meets most of the general requirements: added power, convenient price, durability, sleek design, quality and brand popularity, Apple MFI certification, improved functionality and so on.