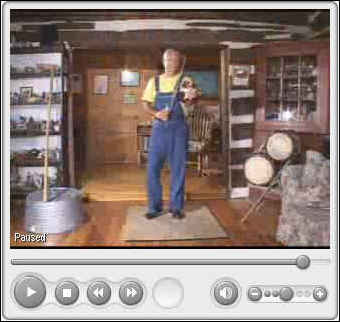 Journey To The Mountain-A Roots Tale
Burlington, NC (PRWEB) September 1, 2006
New Media videographer Rob Mc Gowan of RiverImage.com interviewed Steve Levitt, author of "Journey To The Mountain-A Roots Tale" in Mr. Levitt's log cabin home located in Efland, NC. This is the first time a writer has authored and self published a book and then was immediately interviewed on the new video iPod format. Rob produced the video using a Sony PD-170 Digital Camera and then used Sony Vegas 6 Professional editing software to render the video into a format that viewers can download and watch on their video iPod. Video and audio podcasts are an innovation by Apple iMac in new communications technology.
Says Rob, "There are thousands of new iPod owners looking for a source of quality content. I knew that watching Steve playing folk music and doing a Southern Appalachian clog and flatfoot dance would be great entertainment to carry in your purse or pocket. During the interview as he spoke about his book, Steve demonstrated various Southern Appalachian Mountain Culture home grown instruments. He played a fiddle, a jews harp and the most interesting percussion instrument I had ever seen, a jawbone." This is the first time that you can see and hear a jaw bone of a donkey being played on an iPod Video Podcast. It's also the first folk dance performance that can be found in the new MP4 AVC/AAC digital video format and the first mp4 posted on the RiveImage Web site The producer also published the audio sound track in a free iPod mp3 download format available on cloggingblog.com .
Rob first uploaded this video interview in Macromedia Flash 8 FLV format on RiverImage.com for the increasing number of broadband and DSL subscribers. He was sure that new iPod owners would appreciate having a little North Carolina mountain culture in their latest hand held devices.
Steve and Rob are also working on a performance book reading similar to the book on tape format for iPod video viewing that will be released in the near future. This will allow iPod owners to have a book reading by the author in the palm of their hands with an optional DVD.
This free download 23 minute 96MB MP4 video iPod interview of Steve Levitt, author of "Journey To The Mountain-A Roots Tale" is viewable on the current iPod 30G and 60G iPod models and is available at Riverimage.com
# # #