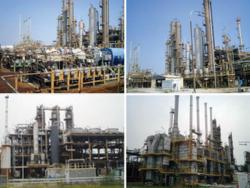 Hamilton, NJ (PRWEB) March 28, 2013
International Process Plants (IPP) has announced that it has two VCM/PVC plant complexes for sale. These plants are available for immediate sale and relocation. They were part of the former Vinyls Italia SpA, and prior to that part of European Vinyls Company/Ineos.
The first complex, located in Porto Marghera, Italy, is comprised of a 260,000 metric ton (m.t.)/year Vinyl Chloride Monomer (VCM) plant, and a 170,000 metric tons (m.t.)/year suspension polyvinyl chloride (SPVC) plant. This VCM plant's technology is a standard fluid bed catalyst oxidation design with 5 furnaces, heat recovery, decoking improvements, and an incinerator. The downstream SPVC plant produces both rigid and flexible PVC grades.
The VCM plant's nominal capacity rating of 260,000 m.t./year has been exceeded with operational technique efficiencies yielding a maximum of 275,000 m.t./year. Moving from air to pure oxygen in the plant's EDC section would increase VCM capacity 20% while certain technical modifications could add another 15%. The SPVC plant's nominal production capacity rating of 170,000 m.t/year can be increased easily by installing condensers on top of the Pfaudler reactors and/or providing colder water for the reactor refrigeration.
The VCM / SPVC plant complex has been continuously upgraded and updated to improve product quality, reliability, throughput, operating costs and environmental emissions. Major capital updates installed within ten years of shutdown include larger VCM furnaces, two new larger PVC reactors, condensers and a more efficient DCS system.
The second complex, located in Porto Torres, Italy, is comprised of a 120,000 metric ton (m.t.)/year Vinyl Chloride Monomer (VCM) plant, and a 75,000 m.t./year emulsion polyvinyl chloride (EPVC) plant. The EDC section of the VCM plant already uses pure oxygen but the capacity can still be increased easily to 160,000 m.t./year and, with further improvements, could reach up to 250,000 m.t./year. The EPVC plant's production can be increased by 15% through grades mix rationalization and other minor improvements.
The EPVC plant produces a wide range of high-quality PVC grades covering several applications. The EPVC plant was continually updated and includes several systems designed to increase output and efficiency, improve quality and safety, reduce operating costs and minimize environmental impact. Operations are managed from a remote control room by means of a Valmet DCS, which runs all plant sections.
The VCM / PVC plants may be purchased as a complete unit or as individual VCM and PVC process lines. Interested parties should call +1-609-454-2940 or visit http://www.ippe.com/News/IPPVCMPVCPlantsPressRelease/tabid/325/Default.aspx.