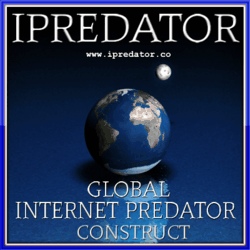 iPredator is an Information Age Forensic construct exploring cybercriminal minds engaged in deceptive, nefarious, harmful and dark online practices.
Poughkeepsie, New York (PRWEB) June 30, 2013
Cyberbullying, cyberstalking, online sexual predation, cybercrime and cyber terrorism are new societal evils rapidly expanding in the Information Age. As the United States and all industrialized nations, grapple with these highly destructive and inflammatory sociological plagues, thousands of children, adults, places of business, and soon nations, are being targeted, accosted and victimized. The abstract and artificial dimension, called cyberspace, is increasingly becoming a dangerous environment infected by those engaged in nefarious and malevolent online activities.
To help define this new malevolent breed, Michael Nuccitelli Psy.D. C.F.C., a NYS licensed psychologist, certified forensic consultant and author of the Information Age Forensics construct, iPredator, has made available, at no cost, his construct for review, download and public debate. Dr. Nuccitelli's recently updated iPredator definition is presented below and interested parties can either visit iPredator Inc.'s internet safety website or immediately access his construct by clicking on the highlighted link here: iPredator-An Information Age Forensic Construct.
Once there, simply scroll to the base of the webpage and click on the green pdf/print button. Just as all of iPredator Inc.'s prevention education information, iPredator is free to download or print and does not require personal information or an email address to access. The definition of iPredator is as follows:
iPredator: A person, group or nation who, directly or indirectly, engages in exploitation, victimization, coercion, stalking, theft or disparagement of others using Information and Communications Technology (ICT). iPredators are driven by deviant fantasies, desires for power and control, retribution, religious fanaticism, political reprisal, psychiatric illness, perceptual distortions, peer acceptance or personal and financial gain. iPredators can be any age or gender and are not bound by economic status, race, religion or national heritage.
iPredator is a global term used to distinguish anyone who engages in criminal, coercive, deviant or abusive behaviors using ICT. Central to the construct is the premise that Information Age criminals, deviants and the violently disturbed are psychopathological classifications new to humanity. Whether the offender is a cyberbully, cyberstalker, cyber harasser, cyber criminal, online sexual predator, cyber terrorist or engaged in internet defamation or nefarious cyber deception, they fall within the scope of iPredator. The three criteria used to define an iPredator include:
I. A self-awareness of causing harm to others, directly or indirectly, using ICT. II. The usage of ICT to obtain, tamper with, exchange and deliver harmful information. III. A general understanding of Cyberstealth used to engage in criminal or deviant activities or to profile, identify, locate, stalk and engage a target.
Unlike human predators prior to the Information Age, iPredators rely on the multitude of benefits offered by ICT. These assistances include exchange of information over long distances, rapidity of information exchanged and the seemingly infinite access to data available. Malevolent in intent, iPredators rely on their capacity to deceive others using ICT in the abstract and artificial electronic universe known as cyberspace. Therefore, as the internet naturally offers all ICT users anonymity, if they decide, iPredators actively design online profiles and diversionary tactics to remain undetected and untraceable.
As stated by Dr. Nuccitelli, "From 2009 to the present and for the next 3-4 decades, along with thousands of hours engaging in exhaustive research, I've come to realize how little I know about the new criminal, deviant and assailant I call iPredator. What I'm confident in professing is that the Information Age has spawned a sinister creature that uses the "veil of anonymity" in cyberspace to harm others without fear of identification or punishment. My new life's mission is to one day plant the seed of fear in all those who seek to harm children and online users using Information and Communications Technology."
To verify Dr. Nuccitelli's iPredator theorem is a cogent construct, the American College of Forensic Examiners Institute (ACFEI), the world's largest professional forensic education organization, has formally endorsed iPredator Inc. Provided here is the recent national press release, in webpage form, confirming their support: ACFEI Endorses iPredator
About iPredator Inc.
iPredator Inc. is a New York State based Information Age Forensics Company founded to provide educational and advisory products & services to consumers and organizations on cyberbullying, cyber harassment, cyberstalking, cybercrime, internet defamation, cyber terrorism, online sexual predation and the new field the founder is pioneering termed, Information Age Forensics. Created by a NYS licensed psychologist and certified forensic consultant, Michael Nuccitelli Psy.D., C.F.C., their goal is to reduce victimization, theft, harm and disparagement from online assailants.
Contact:

Michael Nuccitelli Psy.D., C.F.C.
NYS Licensed Psychologist
C.E.O. iPredator Inc.
347-871-2416
Website: http://www.iPredator.co