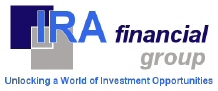 The strong demand for self-directed IRA LLC "checkbook control" solutions have led us to expand our Miami office so we can better serve our expanding self-directed IRA client base
Miami, FL (PRWEB) March 27, 2013
Due to a significant increase in demand from retirement investors across the country looking to use their retirement funds to make real estate and other investments, IRA Financial Group, the leading facilitator of Self Directed IRA and Solo 401(k) Plans is pleased to announce the expansion and relocation of its Miami office to the landmark Lincoln Road Building – 1688 Meridian Avenue, the city's premier business and shopping location.
Commenting on the Miami office move, partner Adam Bergman, said: "The strong demand for self-directed IRA LLC "checkbook control" solutions has led us to expand our Miami office so we can better serve our expanding self-directed IRA client base, " stated Adam Bergman, a tax partner with the IRA Financial Group. " In 2012 alone, we were able to help our clients unlock over $315 million of retirement funds for real estate and other investments, " stated Mr. Bergman.
Lincoln Road Mall is a pedestrian-only promenade and the epicenter of what's happening in South Beach. Located between Alton Road and Washington Avenue, Lincoln Road offers unique shopping, sidewalk cafes, bars, galleries, and fine dining.
IRA Financial Group's Self-Directed IRA LLC also called a real estate IRA with checkbook control, is an IRS approved structure that allows one to use their retirement funds to make real estate and other investments tax-free and without custodian consent. The Self-Directed IRA involves the establishment of a limited liability company ("LLC") that is owned by the IRA (care of the IRA custodian) and managed by the IRA holder or any third-party. As manager of the IRA LLC, the IRA owner will have control over the IRA assets to make the investments he or she wants and understand – not just investments forced upon you by Wall Street.
About the IRA Financial Group
The IRA Financial Group was founded by a group of top law firm tax and ERISA lawyers who have worked at some of the largest law firms in the United States, such as White & Case LLP, Dewey & LeBoeuf LLP, and Thelen LLP. With our work experience at some of the largest law firms in the country, our attorneys legal and tax knowledge in this area is unmatched.
IRA Financial Group is the market's leading Checkbook IRA Facilitator. IRA Financial Group has helped thousands of clients take back control over their retirement funds while gaining the ability to invest in almost any type of investment, including real estate without custodian consent.
To learn more about the IRA Financial Group please visit our website at http://www.irafinancialgroup.com or call 800-472-0646.