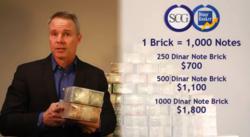 We want our customers to know that we really appreciate their business, which is why we try to have special promotions in addition to our low prices all the time. Our goal is to provide the best pricing and customer service in the industry
Atlanta, GA (PRWEB) March 15, 2013
Sterling Currency Group / DinarBanker has a great Spring Sale on Iraqi dinar starting March 15, 2013. Full Purchase orders of 250, 500 and 1K dinar notes placed starting March 15 have special low pricing while supplies last.
The special prices on bricks of lower denominations (one brick = 1,000 notes) are as follows:
250 notes are $700 per brick (250K IQD)
500 notes are $1,100 per brick (500K IQD)
1K notes are $1,800 per brick (1M IQD)
This special pricing is good for any amount of these three lower denomination notes listed on the order form at http://www.sterlingcurrencygroup.com while supplies last as long as it's a Full Purchase order.
"We are very pleased to offer this low pricing on bricks of lower denomination dinar notes this month," says Frank Bell, Chief Operating Officer of Sterling Currency Group / DinarBanker. "We want our customers to know that we really appreciate their business, which is why we try to have special promotions in addition to our low prices all the time. Our goal is to provide the best pricing and customer service in the industry."
In addition to the special pricing on these denominations, customers will receive Loyalty Credits on any amount they spend (at a rate of $30 per $1,000 spent) and will receive the Sterling Currency Group / DinarBanker March gift of 15,000 IQD (twenty 500 IQD notes and twenty 250 IQD notes) with each million dinars shipped on or before March 29.
There are many different purchase programs at Sterling, including Full Purchase, Sterling 45 Layaway, Guaranteed 30 Layaway, and Guaranteed 90 Layaway, so customers can choose what is best for them when they buy Iraqi dinar. Sterling's Customer Loyalty Program, which gives customers credits for every payment they make a rate of $30 per $1000 spent to use on a future order, makes Sterling's prices the lowest in the industry.
Payment choices include eCheck, wire transfer, mail payment, and COD. Ordering dinar on the Sterling Currency Group website, http://www.sterlingcurrencygroup.com, is simple and convenient. Customers simply select the denomination and amount of dinar that they wish to purchase, choose a payment method, and enter shipping information. The order will be promptly processed upon receipt of payment.
About Sterling Currency Group / DinarBanker
Sterling Currency Group / DinarBanker has been in business continuously with an outstanding reputation since 2004 with the highest BBB rating of A+ and is a registered Money Service Business with the United States Treasury Department. It is licensed either directly or through agent relationships in every state that requires currency exchangers to be licensed (a total of 39 states). The company has extensive capital resources and is committed to exchanging currencies for its customers at any time.
From service to pricing, from transparency to regulatory compliance, Sterling Currency Group / DinarBanker sets itself apart from its competitors in every way.
For more information on Sterling Currency Group, visit http://www.sterlingcurrencygroup.com or call 888-346-2771.