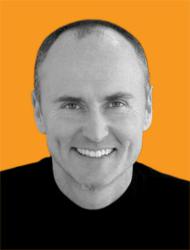 We have a powerhouse lineup of big-name retailers taking a deep dive into the design issues that matter today.
Cincinnati, OH (PRWEB) June 30, 2011
Chip Conley, CEO of Joie de Vivre Hospitality and author of Peak and The Rebel Rules, will deliver the opening keynote for VMSD magazine's 2011 International Retail Design Conference in San Francisco, September 7-9 at the Parc Wyndham.
Conley, whose business techniques have been featured in Time, Fast Company, Fortune, People and the Wall Street Journal, will provide insight on how to mind-read your customers and incorporate those realizations into better retail design.
The speaker lineup includes a mix of retail executives and design professionals from Target, Starbucks, Whole Foods, Walmart, Darden Restaurants, Gensler, WD Partners and more.
The 2011 retail design conference program covers multiple retail sectors, with sessions devoted to food retailing, visual merchandising and the "big box" market. A number of case studies are slated, as well as presentations on European, Canadian and South Korean retail. Topics include designing for the millennial shopper, unifying technologies to enhance the retail store experience, new strategies for retail's rebound, growing your brand smaller and a lot more.
"We have a powerhouse lineup of big-name retailers taking a deep dive into the design issues that matter today," said conference chair Kristin D. Zeit. "This event is unique in its scope and size, with high-level designers across the retail spectrum sharing insights and advice as peers."
Other highlights of the 2011 program include the awards presentation for VMSD's International Visual Competition and Retail Renovation Competition; networking roundtables; our sixth annual Iron Merchant Visual Merchandising Challenge; and San Francisco architecture and design tours.
ABOUT VMSD
Cincinnati-based VMSD (Visual Merchandising and Store Design) is the leading magazine for retail designers and store display professionals, serving the retail industry since 1922. Every month, VMSD showcases the latest store designs and visual displays, presents merchandising strategies and new products, and reports on industry news and events. Learn more at vmsd.com.
ABOUT IRDC
Now in its eleventh year, the International Retail Design Conference (IRDC) is the premier educational and networking event for the store design and visual merchandising community. Presented by VMSD magazine, IRDC combines inspirational sessions, expert Q&A, roundtable discussions, case studies and networking events into three productive days, drawing as many as 400 attendees from the U.S. and abroad. Learn more at irdconline.com.
###