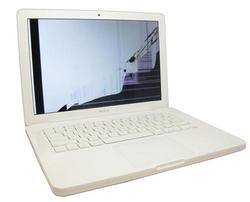 Replacing a broken glossy LCD with a matte LCD was extremely popular with owners of the previous generations of MacBook.
Olathe, KS (PRWEB) March 23, 2010
iResQ, the Midwest's premier mail-in Apple service provider and forerunner of Apple computer, iPod and iPhone repairs, has added matte (or anti-glare) LCD screen panels to their available repairs for the Late 2009 MacBook models. The newest MacBook line was released fourth quarter of last year and marked the first significant change in design since the notebook's inception in 2006.
Among the various changes in construction and component layout, the Late 2009 MacBook features the first LED-backlit LCD in a plastic MacBook. The notebook is sold with a glossy screen and no anti-glare option like its professional-tier brother, the MacBook Pro. iResQ, performing MacBook LCD screen repair for the nearly four years of MacBook's existence, now offers that option.
"Replacing a broken glossy LCD with a matte LCD was extremely popular with owners of the previous generations of MacBook," commented Eric Kautzi, Apple-Certified Technician and manager of iResQ's notebook repair division. " Of the thousands of LCDs we've replaced, a significant portion of those customers chose to switch to the anti-glare screen, so we want to offer the same option for those who bought the latest MacBook as well." MacBook LCD repairs are one of the most-purchased repairs in the iResQ service line.
MacBook matte LCD screen full-service repairs start at $249, the same as glossy LCD screen repairs. iResQ still offers screen repairs for the previous MacBook iterations, as well as for MacBook Pros, PowerBook G4s, iBooks and MacBook Airs at industry-low prices. Shipping costs may be additional.
iResQ has also added 1TB hard drives to its list of available services for the UniBody MacBook and UniBody MacBook Pro. Users needing more storage space can now have 1000GB at their disposal, which is markedly a considerable advancement in personal computing. 1TB drive upgrades start at $299.
About iResQ
Centrally located in Olathe, Kansas, iResQ is an Apple-Authorized Service Provider that repairs Apple computers and portable devices in addition to the Sony PlayStation Portable. Servicing Apple products since 1994, its team of technicians boasts years of experience and multiple Apple Certifications. 24-hr. diagnostics and repair service cover the entire line of iPods, iPhones, Portable Macs, and Mac Minis. This includes the entire PowerBook G4 family, the iBook family, plus the MacBook and MacBook Pro systems, as well as all versions of the iPod except the iPod Shuffle.
iResQ is also an ideal solution for schools and computer repair shops. Its repair depot can handle large numbers of repairs quickly and efficiently, and it provides volume discounts.
For more information or to order repair services, call 1-888-447-3728 or visit:
http://www.iresq.com
###