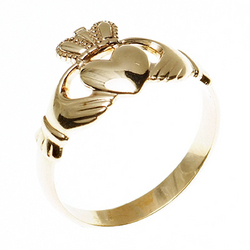 New York NY (PRWEB) January 29, 2009
For the next two weeks, IrishJewelry.com is offering all gold jewelry, including many claddagh rings, pendants, and bracelets, at a 30% discount. With Valentine's Day approaching, everyone is searching for a way to show the special someone in their life just how much they mean to them. Jewelry is a perennial favorite, and the Irish claddagh, which features two hands cradling a crowned heart, is a popular design that throughout hundreds of years has stood for fidelity, love, and friendship.
IrishJewelry.com is the premier source for Irish jewelry shopping online. With more than 200 exclusive designs in silver and gold, no other site has such a combination of quality and service. For Valentine's Day, find your one true love the perfect gift at the perfect price. And through Valentine's Day, IrishJewelry.com is offering free 3-Day UPS shipping on all orders over $100.
On top of its beautiful story of love, the claddagh design also carries with it some equally romantic traditions. When the wearer turns the ring inward on their finger, it means their heart is taken. What a perfect way to show your love on Valentine's. The claddagh is both for men and women, and it appears on rings, pendants, and earrings. The symbol is recognized worldwide as symbol of eternal love, so its message is accepted by all. IrishJewelry.com offers a broad selection of Sterling silver and 10K gold jewelry featuring this timeless design.
At IrishJewelry.com, Valentine's Day shoppers can take advantage of this 30% off sale and be assured of unmatched quality and service. IrishJewelry.com was launched in the Fall of last year, backed by an Irish-American company with a long history of importing Irish goods to the United States. IrishJewelry.com is destined to become the "Amazon" of this niche jewelry market, with e-shopping features like customer Wishlists, a one-page checkout process, discount prices, customer reviews, and high quality products. With prices ranging from $40 to $250, these make wonderful gifts for any budget.
###