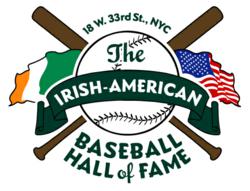 We are proud to induct the Irish American Baseball Hall of Fame Class of 2013 for their contributions to the game.
New York, NY (PRWEB) April 17, 2013
The Irish American Baseball Hall of Fame (IAB HOF) today announced its 2013 inductees: popular former Mets Rusty Staub and Joe McEwing; longtime owner of the LA Dodgers Peter O'Malley; Hall of Fame baseball writer Bill Madden of the New York Daily News; and award-winning columnist for the Boston Globe Dan Shaughnessy.
The induction ceremonies will take place at Noon on Tues, May 7, 2013, at Foley's NY Pub & Restaurant (18 W. 33rd St.), which houses the Irish American Baseball Hall of Fame. Ballots were cast by past inductees and a panel of baseball experts and historians.
"We are proud to induct the Irish American Baseball Hall of Fame Class of 2013 for their contributions to the game," said Shaun Clancy, president of the Irish American Baseball Hall of Fame and owner of Foley's, which features one of the country's most extensive public displays of baseball memorabilia. "The 2013 inductees include two of America's best known sports writers in Bill Madden and Dan Shaughnessy and the longtime owner of one of baseball's iconic franchises in Peter O'Malley. We are also proud to honor two of the most popular players in Mets history: Rusty Staub, a main cog in the 1973 NL Championship season, and "Super Joe" McEwing, a tough and versatile competitor for the 2000 World Series team."
Former Players
· "Super Joe" McEwing: The popular utility player for the Cardinals and Mets played every position besides catcher and pitcher. In nine major league seasons, he hit .251 and played a key role on the 2000 Mets NL Championship team. McEwing managed the Chicago White Sox triple-A affiliate Charlotte Knights in 2011 and is currently the third base coach for the White Sox.
· Rusty Staub: Originally a member of the Houston Colt .45s, Rusty Staub was the first player since Ty Cobb to hit a home run as a teenager and as a 40-year-old. A six-time All Star who had 2,716 hits, 292 home runs, and 1,466 RBI, he is the only player in history to amass 500 hits on four different teams. Rusty was popular in every city in which he played, particularly in Montreal, where French Canadians embraced him as "Le Grand Orange," and in New York, where he was a member of the Mets' 1973 NL Championship team. Off the field, he founded the New York Police and Fire Widows' and Children's Benefit Fund, which has raised more than $150 million for families of policemen and firefighters killed in the line of duty. His Rusty Staub Foundation works to benefit youth and fight hunger.
Executives
· Peter O'Malley: The son of longtime Dodgers owner Walter O'Malley, Peter O'Malley served as both president (1970-1998) and owner (1979-1998) of the team. Under his leadership, Los Angeles won World Series Championships in 1981 -- with a team featuring fellow Irish American Baseball Hall of Famer Steve Garvey -- and in 1988. Peter O'Malley has dedicated much of his life to expanding the reach of the game of baseball globally. A big supporter of Little League participation, he pushed to introduce baseball into the Olympics, where it was played from 1992-2008. Peter O'Malley has contributed to baseball in Ireland by providing funding for the construction of the O'Malley baseball fields in Corcaigh Park in Clondalkin, West Dublin, Ireland, the main home of Irish baseball.
Media
· Bill Madden: Daily News sports writer Bill Madden won the Baseball Writers' Association of America's Spink Award in 2010 from the National Baseball Hall of Fame. Madden has covered over 30 World Series in his lifetime and has authored a number of books including The New York Times bestseller Steinbrenner: The Last Lion of Baseball (2010). The veteran journalist is a member of the Baseball Writers Association of America and has served on the Historic Overview Committee of the Baseball Hall of Fame.
· Dan Shaughnessy: Award winning columnist for the Boston Globe for over 30 years, Shaughnessy is the author of 12 books including The Curse of the Bambino, which chronicled the misfortunes of the Red Sox after trading Babe Ruth to the Yankees, and The New York Times bestseller Francona, which he co-authored with the former Red Sox manager. Shaughnessy has been honored 11 times as Massachusetts Sportswriter of the Year and has been named nine times as one of the Top 10 Sports Columnists in America by AP Sports Editors. He serves on the New England regional board of UNICEF and is proud of his Irish roots in County Galway.
With the blessing of the Baseball Hall of Fame, Foley's, a popular destination among baseball players, executives, umpires and fans, created the Irish American Baseball Hall of Fame. The IAB HOF recognizes players, managers, executives, journalists, and entertainers of Irish descent. Inductees are chosen based on a combination of factors, including impact on the game, popularity on and off the field, contributions to society, connections to the Irish community, and ancestry.
The game of baseball has welcomed immigrants from its earliest days, when an estimated 30 percent of players claimed Irish heritage. Many of the game's biggest stars at the turn of the 20th century were Irish immigrants or their descendants, including Michael "King" Kelly, Roger Connor (the home run king before Babe Ruth), Eddie Collins, Big Ed Walsh and managers Connie Mack and John McGraw. Today, major league teams regularly sign players born in Latin America, Japan, Canada, and elsewhere.
Shaun Clancy, an amateur baseball historian, created the Hall after learning about the rich heritage of Irish Americans in the sport dating from its infancy – a legacy overshadowed in recent years by other ethnicities. He decided to celebrate his roots and those who helped make the game great by creating a shrine to Irish Americans in baseball in 2008.
"Starting Nine" and Subsequent Inductees
The "Starting Nine" inductees in 2008 were: Mets and Phillies reliever Tug McGraw, Yankee announcer John Flaherty, sportswriter Jeff Horrigan, NY Mets groundskeeper Pete Flynn, retired sluggers Mark McGwire and Sean "The Mayor" Casey, actor Kevin Costner, star of Field of Dreams and Bull Durham, legendary owner-manager Connie Mack, and longtime official scorer and sports columnist Red Foley.
2009 inductees: longtime Dodgers owner Walter O'Malley, sluggers Steve Garvey and Paul O'Neill, umpire Jim Joyce; Hall of Fame broadcaster Vin Scully, and Ed Lucas, a blind reporter who has covered the Yankees and Mets for four decades.
2010 inductees: Tim McCarver, Hall of Fame broadcaster and former player, longtime Mets announcer Bob Murphy, Dead Ball era great Michael "King" Kelly, baseball's first superstar, Yankees GM Brian Cashman, and Bill James, famed statistician and an advisor for the Boston Red Sox.
2011 inductees: Nolan Ryan, baseball's all-time strikeout king, Big Ed Walsh, baseball's all-time ERA leader, legendary New York Giants manager John McGraw, New York Yankees trainers Gene Monahan and Steve Donohue, "Baseball's Balladeer" Terry Cashman, and Chuck Lennon, former player, coach and lifetime fan of Notre Dame Fighting Irish baseball.
2012 inductees: Jimmy Breslin, author of Can't Anybody Here Play This Game?; Tom Kelly, two-time World Series champion manager with the Minnesota Twins, Gene Michael, former player, scout, GM and advisor for the New York Yankees, "Walpole Joe" Morgan, popular former player, scout and manager of Boston Red Sox, pitcher Jeff Nelson, a four-time World Series champion with the Yankees; "Wee Willie" Keeler, Dead Ball era legend, and Mike Roarke, credited with teaching the split-fingered fastball to Hall of Famer Bruce Sutter and a supporter of baseball's development in Ireland.
Foley's NY Pub & Restaurant (18 W. 33rd St.) is home of the Irish American Baseball Hall of Fame. A popular destination among baseball players, executives, umpires, media, and fans, Foley's is located across from the Empire State Building. The "Irish Bar with a Baseball Attitude" features walls adorned with 3,000 autographed balls, bobbleheads, game-worn jerseys, stadium seats and other artifacts that make it the top baseball bar in New York and one of the best sports bars in America. For more information, call (212) 290-0080, follow on Twitter @foleysNY and "Like us" on Facebook http://www.facebook.com/FoleysNYPub.