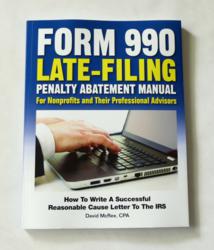 "It's surprising," McRee says, "how many CPA's, professional tax advisers and return preparers have no idea how to write an effective penalty abatement request letter to the IRS on behalf of nonprofit organizations."
Saint Petersburg, FL (PRWEB) March 05, 2013
The publication of a new book, "Form 990 Late-Filing Penalty Abatement Manual: How to Write a Successful Reasonable Cause Letter to the IRS," by David McRee, CPA, offers nonprofit organizations practical guidance for writing a successful reasonable cause letter to the IRS to request abatement of Form 990 late-filing penalties.
Nonprofit directors and professional advisers often do not realize that the IRS offers a way out of these penalties under certain circumstances. In many cases, nonprofits have a high probability of success in avoiding payment of late-filing penalties either by demonstrating that they had "reasonable cause" for filing late, or by showing that the IRS made an error in assessing the penalty.
Late-filing penalties can be as high as $50,000 per return. While the average penalty is not that high, payment of any penalty reduces the amount available for the organization's nonprofit activities. A serious attempt at obtaining abatement is well worth the effort.
Organizations sometimes miss filing deadlines because of a high turnover in directors, financial distress, or in new organizations, ignorance of the law. Although the IRS lists specific reasons that it may accept, any reason may be considered. A good example is that of an urban health clinic that received a penalty for two years of late filings. The clinic's CPA unexpectedly left the country without returning the bookkeeping or completing the tax returns. It took a long time to reconstruct the records and file the returns. The penalties were abated after submitting a request for abatement which showed how the facts and circumstances qualified as reasonable cause under the law.
The IRS does not do a very good job of explaining what reasons they will accept as being reasonable for filing Form 990 late. In his book, McRee explains how to build a convincing argument for penalty abatement based on provisions in the Internal Revenue Code and other published IRS materials, and from years of experience writing letters to the IRS.
"It's surprising," McRee says, "how many CPA's, professional tax advisers and return preparers have no idea how to write an effective penalty abatement request letter to the IRS on behalf of nonprofit organizations." This is a valuable skill to add to any tax practice. Imagine the impact obtaining relief from a large penalty will have on a client's perception of the value received from a practitioner's services.
To offer much needed help to nonprofits and their advisers, McRee has published his knowledge about obtaining penalty abatement for nonprofits in a printed softcover desk reference book titled "Form 990 Late-Filing Penalty Abatement Manual: How to Write a Successful Reasonable Cause Letter to the IRS." The book is written in plain language making it accessible to the layperson.
The manual explains in detail what the IRS will accept as reasonable cause, how to present an argument that shows how your facts and circumstances may qualify you for relief under the reasonable cause provisions of the Internal Revenue Code, and how you should communicate with the IRS while seeking abatement. The book cites relevant IRS guidance, Internal Revenue Code sections and Treasury Regulations and discusses a number of helpful court cases pertaining to the concept of reasonable cause.
Included in McRee's penalty abatement manual, to serve as examples, is the full text of more than seven letters that were successful in having late-filing penalties removed in a variety of common circumstances. Also included is a letter template to help structure a letter and build a reasonable cause argument based on the facts at hand.
The printed book is available on Amazon.com and is offered on the author's web site in various packages with additional helpful resources. The book is also available as an e-book in pdf format. Visit the author's web site at Form990Help.com for additional information, examples and testimonials from organizations that succeeded in obtaining penalty abatement.
About the Author:
David B. McRee, CPA and author, has been helping nonprofits comply with IRS filing requirements since 1997, and since 2007 he has published guidance on how nonprofits can get relief from late-filing penalties. This guidance has helped hundreds of nonprofits get relief from hundreds of thousands of dollars in Form 990 late-filing penalties.