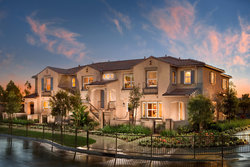 Woodbury East also establishes a new kind of village living environment while providing an incredible array of amenities, all in a very convenient location.
Irvine, CA (PRWEB) May 20, 2009
Woodbury East, the newest and one of the most exciting and intimate of the Villages of Irvine, is now preparing for the grand opening of its first new-home neighborhood of the year.
Located off the I-5 Freeway, and bordered by Sand Canyon and Trabuco roads in the City of Irvine, the Village of Woodbury East is planned to offer approximately 500 homes in a limited number of new home residential neighborhoods, each within walking distance of the village's garden parks and The Palm Club, a resort-style recreational facility and social center.
"The small scale of Woodbury East makes it conducive to more intimate neighbor-to-neighbor interaction," said Tom Veal, vice president of residential marketing and product planning for Irvine Company Community Development. "Woodbury East also establishes a new kind of village living environment while providing an incredible array of amenities, all in a very convenient location."
The first phase of Woodbury East is scheduled to open in July 2009. Ivy, a new town home neighborhood by William Lyon Homes, will offer four unique two-story floor plans ranging in size from approximately 1,180 to 1,501 square feet, and pricing is anticipated in the high $300,000s.
These new entry-level homes, combined with favorable affordability conditions, create great opportunities for buyers who previously could not afford to enter the market. Historically low interest rates and attractive federal and state tax credits of up to $18,000 per home help bring the dream of homeownership within the reach of first-time homebuyers.
"Now is the opportune time for first-time homebuyers - singles, young couples and families - to take advantage of these circumstances and to enjoy all of the benefits associated with home purchases in the Villages of Irvine," said Veal. "Award-winning schools, close proximity to major business and employment centers, dining, entertainment, and recreation - Woodbury East represents all of the best of Irvine in one intimate package."
Two garden parks, Iris Garden and Rose Petal Garden, are already open at Woodbury East. The parks include a half-court basketball, a tot lot, barbecue and picnic areas, and a lawn area. The 3.45-acre Palm Club, envisioned as the resort-style social center of Woodbury East, is anticipated to open next year. The Palm Club includes a Junior Olympic pool, wading pool, spa, a fitness center with cardiovascular and strength-training equipment, a 2,470-square-foot recreation building with multi-purpose room and kitchen, full-court basketball and tennis courts, tot lot, picnic tables, barbeque area, and a great lawn area.
Walking, hiking and bicycling trails will link Woodbury East residents to key places within the village and connect them with the adjacent Woodbury Town Center retail shopping plaza and other destinations throughout the Villages of Irvine.
Woodbury East demonstrates Irvine's long standing commitment to building green and is another example of environmentally responsible planning. The City of Irvine's Green Building Program guidelines are designed to protect the natural environment by encouraging water and energy conservation, waste reduction, recycling and better air quality.
Prospective and first-time homebuyers interested in Ivy at Woodbury East can receive additional information and sign up on the interest list by visiting VillagesofIrvine.com/we or by contacting a Villages of Irvine New Home Consultant at (888) 820-0721.
About Irvine Company
Irvine Company is a privately held, 140-year-old real estate planning, development and investment company best known for the master planned community designs of the Villages of Irvine, the balanced, sustainable communities it has planned and created in Orange County, CA
###