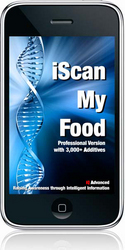 The app allows the consumers to scan the ingredients on packaging and track food additives in the food and beverages purchased every day at the supermarket.
San Diego, CA (PRWEB) June 23, 2010
iQ Advanced of San Diego, CA is announcing the release of iScan My Food—an iPhone app developed for scanning food ingredients and containing information on harmful food additives, toxic ingredients in food and genetically modified foods. The app allows the consumers to scan the ingredients on packaging and track food additives in the food and beverages purchased every day at the supermarket.
iScanMyFood is not a bar code reader, rather it is an OCR (optical character reader) using advanced technology from ABBYY USA. The iPhone camera is used to photograph the ingredients found on the package of a food item or cosmetic product, then the photo is converted into text and processed through a proprietary software which pulls matching additives from a database and presents them to the end user as results. These results can then be named and saved in a personal database and also emailed for further research. The advantage of scanning the ingredients is that the consumers can get all the packing information, while bar codes are not required to do so, rarely offer the full list of ingredients, and cannot produce results on freshly baked goods packaging. 
The app also helps find harmful ingredients in baby foods, cosmetics and pet food, including dog food, cat food, and animal feed for farm animals: horses, cows, cattle, pigs, poultry. iScan My Food offers information on genetically modified foods, (GMO s) their derivatives and enzymes widely spread in the food supply: maltodextrin, soy lecitin, high fructose corn syrup, and others. With the growing concern of obesity, diabetes, cancer, infertility, food allergies, skin allergies, gout, hormonal imbalances, autism, ADHD (Attention Deficit Hyperactivity Disorder), Alzheimer's disease, asthma, migraine headaches and others, the app enables the consumers to gain understanding of the long term side effects of chemicals, toxic food coloring (dyes) and preservatives on their health. Some of the additives derived from GMOs lack enough studies to show what the long-term outcome would be as a result of consuming such foods. More than 3,000 substances can be added to foods for the purpose of preservation, coloring, texture, and enhancing flavor. They have been shown to affect the RNA, thyroid, and enzymes. Many lack sufficient study related to their long-term use as far as safety or toxicity.
There are two (2) versions of the iScan My Food iPhone app: a Lite version and a Pro version.
The Lite version has 524 E-number additives and offers the full benefits of scanning ingredients on food packaging and cosmetics.
The Pro version has over 3,000+ additives.
Consumers can scan various foods and cosmetic products, track the ingredients on packages, and instantly recognize through a visual color coding system of red, yellow, green, and gray whether the food ingredients and additives are potentially harmful, have a warning, or are accepted to be safe. For each of the ingredients, the app offers a description, a list of possible side effects, and past or current ban in some countries. The app allows the average consumer to make educated decisions about which foods and ingredients they want to accept in their diet. By using and studying the information on food additives--name description and possible side effects offered by the iScan My Food app-- consumers and their families can become healthier shoppers. Another benefit of the app is that it allows users to share their scanned food records with anyone they want to caution or inform about a product, as many additives can cause an allergic reaction in some individuals. After scanning a food item, the consumer can save the name of a product of interest into a personal database, which is one of the features of this app. As there are many additives with similar names, the OCR may produce a result that is a close but not the exact match. In this case the user has the options of adding or deleting an ingredient by using the plus or minus (Add or Delete) features. The scanning process is done correctly only when the user holds the iPhone horizontally (landscape) during scanning. An OCR scan will not be produced when the iPhone camera is held parallel to the ground (see our video tutorial on iscanmyfood.com to learn how to produce a good scan).
Users and scientific researchers can save findings to the app's database and email results to themselves or to colleagues for further research. Additionally the app results provide links to HarmfulAdditives.com with photos and in-depth related information, Web links, Blog postings and News Feeds about food and chemical  additives.
The app allows the consumers worldwide to submit additional additives or ingredients found in their food products, which will be added to a following update, as additives are constantly being developed and added to foods and cosmetics.
IQ Advanced has developed iScan My Food iPhone app scanner to be available for private labeling through our Partner Program. Companies looking to raise awareness about food additives now have a great opportunity to privately label the app and use it as a health, marketing, and branding benefit. For further information, contact us directly by email or phone listed to the right.
Get the iScanMyFood Pro app at iTunes click here
###