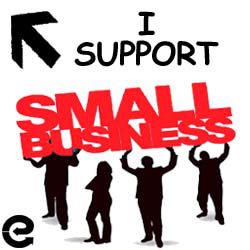 Supporting Small Businesses in 2012!
Tampa, Fl. (PRWEB) September 05, 2012
Over the last few years, outsourcing has become a common tactic that is utilized by the majority of firms to decrease their costs. According to a study conducted by Source Line Computer Economics a total of 2.27 million jobs were outsourced in 2011. For small businesses, these issues are challenging by forcing many firms to make dramatic changes to their strategy. This is because the majority of public officials will often talk about how important this segment is to the economy. Yet, the policies that they are supporting are encouraging a variety of firms to engage in these activities. Given the fact that these companies are accounting for 80% all new job creation, means that there will be shifts in the kinds of employees that are hired.
To deal with these challenges, there needs to be some kind of change in the way public officials are looking at the problems impacting small businesses. In response to these issues, I Support Small Biz has created a Facebook page that is reaching out to these entrepreneurs. In the future, this will create forum where the views of small businesses can be heard through a single voice.
#ISupportSmallBiz Facebook Page
To increase awareness of the challenges impacting smaller firms requires that a single voice must be heard by various policyholders. The way that this is accomplished is through creating a Facebook page where different individuals can discuss and share their views about changes in the economy / industry. In a critical election year, these views can help to sway the opinions of public officials. Once this takes place, is the point that various policies will be created that is taking these ideas into consideration.
It's About the People
As a result, the new Facebook page is designed to be above politics by focusing on how certain activities are impacting people. This means that the views of communities, small businesses and their customers are taken into account. When this happens, public officials will have more insights about specific challenges that are impacting various stakeholders. Over the course of time, this will result in policies that are more focused on these issues and how they are influencing many groups. This is the point that the needs of different stakeholders will be carefully examined during the process.
In the age of the Internet, these tools are transforming the impact of organizations and their influence on public officials. The launch of the new Facebook page is just one step which is designed to ensure that the needs of small businesses are taking these challenges into account. This will prevent issues such as outsourcing from adversely impacting communities (by considering how different actions are affecting various stakeholders). Once this takes place, is the point that small business owners and entrepreneurs will have their ideas integrated into various policy decisions. This will help to mitigate the negative outcomes from globalization (i.e. outsourcing and its impact on firms / communities). When this happens, these organizations are able to adapt with the various challenges they are facing.