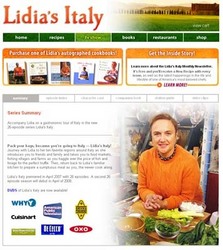 Lidia's Italy customers can't get enough of our Italian tabletop, which is often featured on Lidia's Emmy-Nominated cooking show
New York, NY (PRWEB) December 9, 2008
Just in time for the holidays, Lidia's Italy has added to their product offerings and is currently featuring a variety of Italian gift ideas. In addition to cookbooks that feature Lidia's simple, authentic Italian recipes, Lidia's Italy has made available a variety of DVDs, gift baskets, handcrafted tabletops and notecards. In addition, Lidia has chosen the month of December to showcase some of her favorite recipes, as well as her brand new blog containing a wealth of information about the Italian lifestyle.
The holiday promotion features a variety of products at a great value. Lidia's Italy cookbooks are available for $35.00 and come with a free companion DVD from Lidia's Italian cooking show. Gift baskets featuring a copy of Lidia's Italy, her three jars of tomato sauce, balsamic vinegar and cooking DVDs are available for $100.00, and make excellent Italian gift ideas. Gift cards to Lidia's restaurants are also available, as well as a number of bonuses for those that spend $200.00 or more during the month of December.
Those shoppers will receive a free photo book that contains some of Lidia's favorite food and Italian photos and 10 free authentic Italian recipes. Shoppers who spend $300.00 or more during the month will receive the photo book and a set of Lidia's note cards that feature four of her food photographs and companion recipes.
"Lidia's Italy customers can't get enough of our Italian tabletop, which is often featured on Lidia's Emmy-Nominated cooking show," says Lauren Falk, Spokesperson for Lidia's Italy. "For that reason, we've added even more for the holidays and we intend to increase our offerings after the first of the year."
According to Falk, Lidia's Italian gift ideas are perfect for this Holiday season as the recession is now official and people are cooking more at home. Lidia Bastianich cooks comforting, heart-warming food, and brings a piece of Italy to people's homes with her free recipe books.
"The new holiday gift cards, for example, are a great and inexpensive gift for the frugal holiday shopper as they're only $12.95," says Falk. "The inexpensive gift cards also make a nice thank you for larger purchases."
To gather more information or try some of Lidia's authentic Italian recipes, visit Lidiasitaly.com.
About Lidia Bastianich:
Celebrity chef Lidia Bastianich is the host of Lidia's Italy, a television series that takes viewers on a gastronomic tour of her homeland of Italy. Traveling with her daughter Tanya, an art historian, she highlighted the not only Italian food but also the rich cultural heritage of the country. In addition to her television work, Bastianich is an accomplished restaurateur with six restaurants located in New York, Kansas City and Pittsburgh. She has also authored several cookbooks, including a companion to her Lidia's Italy television show and Lidia's Family Table.
###