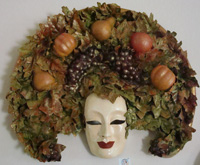 Los Gatos, CA (PRWEB) March 01, 2013
Gioia Italian Art is offering 15 percent off authentic 16th and 17th Century Venetian masks and techniques from Commedia dell'Arte now at its location in Los Gatos.
Gioia Italian Art and Products works together with master artist Carla Almanza-deQuant, trained in Florence Italy, to provide unique, elegant, one-of-a kind Venetian masks for wear and for home decor. Carla's masks are made using eco-friendly materials and incorporate techniques such as sculpting, painting, decoupage, metal leafing, fabric, antique patinas and filigree. They are comfortable and beautiful on walls, framed, or in a vase of silk flowers. Gioia Company provides masks for Italian weddings and special events and custom designs in colors styles of personal choice.
Venetian Mask events are wonderful for party themes and fundraising events. In working with Gioia Company, clients can create masks and a webpage of masks customized for any event. Event tickets can be sold to include a mask purchase.
Customers can learn more about masks from Gioia Italian Art and Products by attending a Mask Making Class from 10:30 a.m. to 4:30 p.m. on Sunday, March 10, at Gioia's Los Gatos location. The cost is $125, which includes all materials and lunch. Pre-registration is required. To RSVP, contact co-founder Kathy Winkelman at 408-640-6628, or email her at KathyWinkelman(at)gioiacompany(dot)com.
To receive the 15 percent discount, enter the word "bella" at checkout. Mask workshops and custom jewelry are available upon request. Contact Kathy Winkelman with the email above for more information.
About the company:
Gioia Italian Art and Products works to make Venetian masks in keeping ancient Italian Art alive. Personal Venetian Masks can be designed and created for special events. Gioia Company Italian also features a selection of Italian jewelry, Venetian masks, stone Frescoes, and other Italian gift ideas for special occasions. The company, founded in 2006, is built on the strong tradition of Old World Hospitality, fine arts and time-honored craftsmanship. They support a new generation of Italian artisans, both in Italy and the United States, maintain the interest in gifts from Italy and fine art handcrafted by Italian artisans, keeping centuries-old traditions available to their clients. Besides masks, other gift ideas include sculptures, wine glasses, jewelry, linens, stationary and more. For more information, visit https://gioiacompany.com or call (408) 640-6628.