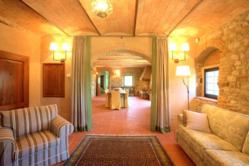 There is something deeply alluring about Italy. When you make the decision to visit Tuscany, a dream is born - - Jim Broyles.
Denver, Colo. (PRWEB) September 29, 2012
The Casa Matteo villa is a 1,000-year-old former monastery, built during the medieval period. It survived the destruction of World War II, became a luxury Italian villa and was meticulously restored in 2006. It is now available as an Italian vacation rental.
Casa Mateo lies between the towns of San Casciano and Mercatalea in the heart of the Tuscany region of central Italy. It is 11 miles from Florence. Siena and Lucca are both about an hour away. It is one of several Tuscany villa rentals in Italy.
"Tuscany has a rich history and provides one of the most sought-after culinary and wine experiences in the world," comments Susan Broyles, whose grandfather emigrated from Italy to Colorado in the early 1900s.
Fluent in Italian and French, Susan grew up traveling in Europe and visiting relatives in her grandfather's ancestral village. "Along the way we developed relationships with trusted owners and select property managers in all regions of Italy," Susan explained. "As we began telling others what we found, a new business was born that gave us the chance to do what we love," Susan added.
Located in the historic Chianti region of Tuscany this luxury villa is a memorable gathering place for groups of friends or family. The private estate overlooks a panorama of olive groves planted throughout the property. Arrangements for the five-bedroom luxury estate are coordinated through Gira! Italian Vacation Rentals.
"Gira is an exuberant phrase Italians use to describe their adventures to new places. Our interpretation of gira is to just go – to venture out and truly experience the culture of Italy: its cuisine, wine, art, landscape and sheer beauty, embrace cultural differences along the way and just plain have fun," according to Jim Broyles, founder of ItalyRentals.com, a Denver-based online catalog of Italian estates.
"We also offer a free guide to selecting and enjoying Italian vacation rentals entitled A Villa of My Own: Gira's Italian villas guide to selecting and discovering the perfect vacation destination in Italy. The 20-page guide gives you ideas, advice and information on what to expect during the journey," according to Jim.
"The Chianti region is spectacular," Jim adds. "It is strongly tied to its wine and its wine culture. Between Florence and Siena you will find many farms, wineries and wine cellars that proudly offer their products. I think you will develop a new appreciation for this fine wine. All you need is a good map and an adventurous spirit to start your wine tasting tour in Chianti, either by car or by bus," Jim said.
Gira offers an impressive collection of luxury Italian villas, farmhouses and apartments in the most desirable regions of Italy.