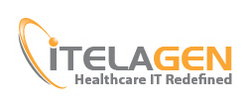 The healthcare world is getting harder and harder for people to navigate
Jersey City, N.J. (Vocus) January 6, 2009
ITelagen, Inc., innovative provider of one-stop, flat-fee healthcare information technology and support, today announced it has developed a customized platform to power Wellness 360's superior new health advocacy program (HAP), provided as a benefits service to employers and individuals. The Wellness 360 HAP provides consumers with an experienced "guardian angel" to help navigate the ever-growing complexities of the healthcare system when facing an illness or injury, whether their own or that of a family member.
ITelagen worked hand-in-hand with Wellness360 to custom design a HAP Management System that met the program's very specific needs. From the moment an employee calls the service for the first time and is connected to a nurse advocate, the HAP system is used to develop a patient profile in compliance with all HIPAA privacy requirements and track every step of the advocacy process.
"The healthcare world is getting harder and harder for people to navigate," says Liz Neporent, Wellness 360 president. "Patients no longer see a General Practitioner who handles all of their health issues. With our HAP, our nurse advocates can give nonbiased guidance to determine which providers are best-in-class in their specialties and provide the patient with the best care experience possible."
In addition to serving as a repository of patient health information, the system also provides access to a unified database of physicians, specialists, facilities and more, allowing nurse advocates to quickly assess medical needs and search for the best available appropriate care. The HAP Management System is invaluable to Wellness360's ability to guide patients and their families through serious injury or diagnosis of a long-term illness.
"The physical and emotional toll of dealing with serious health issues can be devastating," explains ITelagen CEO John O'Keefe. "Wellness 360 takes pressure off of consumers and their employers by leading them through the mountain of administrative, medical, insurance and other healthcare tasks they face. The HAP Management System we developed makes it much easier for nurse advocates to identify, review and activate options in a care plan personalized to the employee's specific needs. By making administrative and operational concerns as easy to manage as possible, the HAP Management system lets Wellness 360's professionals devote their time and focus where it matters most: on the client."
Patient demographic information, specialists, physicians, therapists and insurance information can be quickly aligned and documented with the system's query and reporting capabilities. For instance, nurses often must patch together imperative pieces of information from various resources, creating individual profiles as needed for each individual patient. The HAP Management System combines all these multiple efforts into one streamlined system, reducing time and increasing quality of results. The system also tracks all efforts, referrals and assignments when dialogues take place, to help promote future ongoing dialogues when needed.
Having as much information readily available as possible helps nurse advocates provide the best patient assistance possible. This platform helps a nurse find a specialist, facility location, plan coverage, patient specific needs and more within minutes, saving precious time and promoting positive results.
About ITelagen, Inc.
ITelagen (http://www.itelagen.com) brings electronic medical records, practice management and claims management solutions to small- and medium-sized medical practices. ITelagen's subscription-based service includes hosting and management of EMR applications and proactive onsite and remote IT support for all aspects of a practice's computers, network and staff. ITelagen offers solutions for practices of any size and specialty, and tailors every implementation to the unique needs and budget of each client. For more information, please visit ITelagen on the web at http://www.itelagen.com.
About Wellness 360
Wellness 360 (http://www.w360.com) designs and manages world class wellness strategies for corporate, spa, hospital and residential clients including some of the most admired and respected wellness programs in the country and around the globe -- everything from fitness centers in New York City to corporate health programs in Bangalore to wellness programs in Hong Kong. In addition to bricks and mortar facility design and management, we have a host of other services that can be delivered on-site, online, or telephonically. These include wellness concierge services, health advocacy and medical case management, disability management, work life balance programs, crisis management planning, health fairs and more.
CONTACT:
Beverly Bartley
Vice President of Communications
Martopia
Media Representative for ITelagen
404.327.9051
###