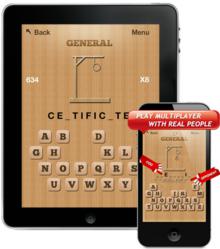 Always loved that game. Fun to play. Love the different categories. Not so easy to figure out sometimes which is great. Dont want to win to easily! Get the app ★★★★★ - SunshineSD, United States
(PRWEB) March 09, 2013
There are several vocabulary related game in app store. Hangman is one of them. This "Hangman Pro - Real Time Multiplayer for iPhone, iPad" is a totally different game than others. In this game the user can play using a selected list of vocabulary. In multiplayer mode the user and the other player have to solve a random word in a limited time. Whoever solves it first wins the competition. Thus multiplayer is more challenging, fun and useful to sharpen vocabulary skills.
This app is FREE to download and play.
Game Mode
—————————-
1. Single Player
2. Multiplayer – Game Center Based Online Multiplayer
Word list categories include
—————————-
✓ General
✓ Animals
✓ Colors
✓ Countries
✓ Geography
✓ Food
Compatible with iPhone 3GS, iPhone 4, iPhone 4S, iPhone 5, iPod touch (3rd generation), iPod touch (4th generation), iPod touch (5th generation) and iPad.
Requires iOS 5.1 or later.