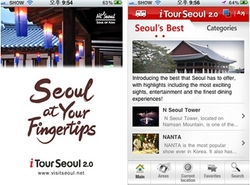 Seoul, South Korea (PRWEB) December 29, 2010
Anyone who has traveled abroad knows how difficult it is to adjust to a foreign environment. It is hard to know where anything is, or how to get to it, or even if it'll be worth traveler's time. Fortunately, visitors to Seoul can now rest assured that they will have a stress-free, enjoyable trip with Seoul city's newest travel information service to guide them. Available for iPhones in Korean and English, i Tour Seoul 2.0 is a free GPS-based mobile application from the Seoul Tourism Organization that gives Seoul travelers instant access to all the essential information they need to navigate their lives in Seoul, all on the go.
i Tour Seoul 2.0 automatically identifies the user's current location and provides detailed information on the most highly recommended and popular attractions, shops, hotels, restaurants, and recreational areas nearby. All tourist information provided is within a 3km radius of each recommended area in Seoul. The application also comes with the handy i Tour Seoul Map that lets users conduct searches on any location in Seoul and find the best public transportation route to reach a destination. And if that isn't enough, i Tour Seoul 2.0 also provides users with useful contact information for tourist information centers and emergency numbers, as well as convenient information such as the locations of banks and currency exchange booths. Unlike the application's predecessor, i Tour Seoul 1.0, the newest version provides up-to-date information with additional download content that is already built into the application, minimizing communication costs. (A network connection is not required to access most of the content, but an external connection service is required to access special features like maps and driving directions.) The application will be developed for Japanese and Chinese language versions in the near future, as well as for use in other smartphones like the Android phones and the Windows Mobile phones.
iPhones with the i Tour Seoul application already installed are available for rent in several places throughout Seoul. It can be rented from the SHOW Global Roaming Centers located at Incheon International Airport (between Gates 6 and 7, and Gates 10 and 11), Gimpo International Airport (Gate 1) and City Airport, Logis & Travel (Korea City Air Terminal) (2nd Floor, Airport Limousine Bus Station). They can also be found at the business centers located within the Seoul Lotte Hotel in Myeongdong and the Millenium Seoul Hilton Hotel in Namsan.
To download the application, go to the App Store on your iPhone and search for i Tour Seoul, or go to http://itunes.apple.com/en/app/i-tour-seoul-2/id405436072?mt=8.
# # #