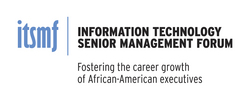 We offer guidance, advice and counsel based upon real world experience
Batavia, Ill. (PRWEB) May 15, 2008
The Information Technology Senior Management Forum (ITSMF) is proud to announce that 18 IT African-American professionals are ready to leap into leadership after completing the ITSMF Executive Protégé Program. The commencement ceremony will take place at the Pitney Bowes world headquarters in Stamford, CT on Friday, May 16, 2008.
Pitney Bowes is a Mailstream Technology Company that helps organizations manage the flow of information, mail, documents and packages. The company's 36,000 employees deliver technology, service, and innovation to more than two million customers worldwide. Pitney Bowes was founded in 1920 and annual revenues now total $6.3 billion. More information is available at http://www.pb.com .
The goal of the Executive Protégé Program is to fill the pipeline with African-Americans ready to advance to the senior levels of information technology. Graduates of the program also help fill an ongoing and growing void in the IT industry.
Published survey results indicate the IT industry is facing a talent crunch and many CIOs feel finding skilled professionals is their greatest challenge. "As a result of this data it is not a far leap to conclude that if we do not have the talent at the professional or mid-management levels, we may not have enough people in the pipeline to reach the executive levels," say Zack Lamelle, ITSMF Chairperson.
The Information Senior Management Forum (ITSMF) has mobilized its efforts around solving this issue. The ITSMF Executive Protégé Program provides the mentoring and leadership development mid-level African-American managers in information technology need, to advance to the senior and C level in IT. It is the only national leadership development program focused on cultivating executive talent among African-American IT professionals.
The leadership development and mentoring occur in a structured collaborative environment where seasoned veterans share their success secrets and help protégés strategize for upward mobility. Using one-on-one coaching, enrollees gain insight and a higher sense of awareness of the behavioral and relationship abilities needed to become a leader in the IT profession.
Participants in the program learn from experienced senior leaders from some of the world's top fortune 500 companies like Lockheed Martin, Wachovia Bank, Marriott International and Microsoft. "We offer guidance, advice and counsel based upon real world experience," says Allen Sample SVP Information Resources for Marriott International.
To qualify for the program, mid-level managers must possess excellent communication skills, have achieved the level of first line manager, commit to completing the 12-month program and obtain a recommendation from an ITSMF member, an ITSMF Corporate Partner, or a protégé channel organization. They must also gain sponsorship and support from a senior level company manager for the duration of the program and be recognized as a high potential employee, promotable to at least two levels above their current position.
This year's graduating protégés are:

Gloria Anderson; Hewlett Packard, Technical Program Manager
Irvin Bishop; Coca Cola Company, Director Global Interactive Marketing, IT
Rhonda Boyd; Allstate, Portfolio Management Advisor, Technology Mgmt. Office
Jason Carter, Former Bank of America, Vice President and Senior Technology Manager
Danielle Desalu; Cisco, Wireless Systems Engineer
Christopher Essex; UBS, Director, IT
Lucia Eversley; Procter & Gamble, Business Performance Solutions Leader
Dwight Forbes; Hewlett Packard, Civilian Agencies Presales Manager
Damon Frost; Procter & Gamble, Section Manager, GBS Leader
Shirley Johansson; Procter & Gamble, Systems Manager
Nikkia Miller-Blakes; Johnson & Johnson (Ethicon), Global Application Development Manager
Mike Nation; Coca Cola Company, Program Manager, Global Financial Development
Sharon Ransom; IBM, Americas Director of Services, Support and Education, Tivoli Software
Kimberly Summers-Sims; Hanesbrands, Director, Project Management
Tammara Turner; Microsoft, Social Engineer
Bennette Veals; Procter & Gamble, Employee Services Client Manager
Olden Warren; Procter & Gamble, Senior Project Manager
Ronnie Watson; Johnson & Johnson, IT Franchise Director
To learn more about ITSMF, visit http://www.itsmfonline.org
###