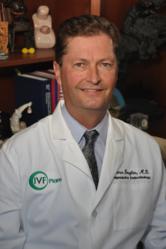 We are pleased to provide every advantage that modern medicine offers, such as this new advanced technology for the laboratory, to nurture and protect fragile embryos
(PRWEB) October 05, 2011
Lasers, used everywhere from supermarket scanners to gum surgery, now give couples undergoing infertility treatment a cutting-edge way to increase their chances for success. Dr. James Douglas, M.D., in partnership with the fertility lab at Presbyterian ARTS, employs laser-assisted hatching during the implantation phase of in-vitro fertilization (IVF) when certain conditions exist.
In conjunction with IVF, laser-assisted hatching adds a greater degree of certainty during the final, critical implantation stage in which the embryo attaches itself to the uterine wall. The embryo must first "hatch" from its protective outer shell (zona pellucida) before implanting in the uterine lining and continuing to grow. Laser technology can precisely create an opening in the embryonic shell to ensure that the embryo hatches and develops into a viable pregnancy.
"Infertile couples who pursue IVF in partnership with a fertility clinic that offers laser technology now have one added layer of security," says Dr. Douglas. "We are pleased to provide every advantage that modern medicine offers, such as this new advanced technology for the laboratory, to nurture and protect fragile embryos."
In IVF, fertility doctors stimulate the ovaries with fertility medications to increase the number of follicles -- and eggs within those follicles – a woman produces in a given cycle. Embryologists then retrieve the eggs and combine them with semen in a fertility lab (in vitro means 'in the lab') to form an embryo.
"At this point, embryologists used to rely on an acid solution to dissolve part of the outer wall of the embryo," says Dr. Douglas. "Needless to say, laser technology is safer for the embryo, shaves precious minutes from the time the embryo is outside the incubator, and produces better results for hopeful parents. We are excited to offer this solution through our lab facility at Presbyterian ARTS."
Laser-assisted hatching benefits women of advanced maternal age as well as those who present with poor embryo quality, elevated hormones, or previous failed IVF attempts.
This advanced laboratory technology also aids embryologists in specialized fertility treatments such as preimplantation genetic screening (PGS), formerly called preimplantation genetic diagnosis, or PGD. In PGS, IVF Plano fertility specialists now use lasers to biopsy embryos for inheritable diseases.
To see a PGD biopsy with a fertility laser visit our youtube account IVF Plano
About IVF Plano
For over 20 years, Dr. James Douglas and the team at IVF Plano fertility clinic have served the Dallas area, offering advanced diagnostic tools, the latest treatments for infertility and better-than-average pregnancy rates. Dr. Douglas has helped thousands of patients in the Plano, TX area achieve their goals of starting or expanding their families. For more information about the clinic, please visit http://www.ivfplano.com.
###