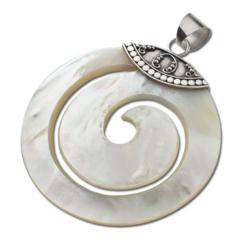 I am inspired every day by the strong, visionary women we have the privilege to partner with through Jolica. — Darlene Loewen, Co-Founder and President
Fonthill, ON (PRWEB) March 05, 2013
What better way to celebrate International Women's Day on March 8th than by buying, wearing and giving a beautiful scarf or piece of jewelry handcrafted by a woman in a developing country and made available in North America by Jolica.
"I am inspired every day by the strong, visionary women we have the privilege to partner with through Jolica," said Darlene Loewen, Co-Founder and President. "Talented, hard working women who are committed to creating beautiful pieces, improving their children's lives and uplifting their communities."
Jolica's handcrafted, Fair Trade jewelry, scarves and handbags can be purchased through independent Gift Consultants and on line.
Jolica's product line includes stunning sterling silver rings, necklaces, earrings and pendants designed and created by Karyawati. One of Indonesia's few female silversmiths, Karyawati has developed her own Fair Trade workshop, providing a better life for her family and fair employment for women in her community.
Pui, another talented Jolica designer, has established a successful Fair Trade weaving cooperative in rural Thailand. Sensually soft and of contemporary design, her hand woven silk scarves are a beautiful and practical addition to any wardrobe. Through the payment of fair wages and an education fund for children, Pui uses her co-op's success to improve local artisans' lives.
Jolica sells an extensive line of high quality and well priced Fair Trade jewelry, scarves and leather goods, all handcrafted in small workshops in India, Indonesia, Nepal, Thailand, Peru and Chile. Fair Trade means Jolica's skilled adult artisans are treated with dignity and respect.
Jolica's unique business model makes it possible for anyone, anywhere to have their own successful Fair Trade accessories business, and for everyone, everywhere to have access to beautifully handcrafted Fair Trade jewelry, scarves and handbags.
About Jolica
Founded in 2005 by Darlene and Ted Loewen, Jolica is a privately owned direct sales company based in Fonthill, ON. Jolica's handcrafted jewelry, scarves and handbags are created by artisans in Chile, India, Indonesia, Nepal, Peru and Thailand, and are purchased according to the principles of Fair Trade.
Jolica's direct sales model makes it possible for anyone, anywhere to have their own successful, Fair Trade jewelry and accessories business. This also makes it possible for everyone, everywhere to have access to beautifully handcrafted Fair Trade jewelry, scarves and handbags. Jolica is a member of the Fair Trade Federation (FTF) and the Direct Selling Women's Alliance (DSWA). Five percent of all sales go to the Jolica Foundation. http://www.jolica.com
Contact:
Ingrid Heinrichs Pauls
Public and Media Relations
(c) 905-330-9040
ingrid(dot)heinrichspauls(at)jolica(dot)com
http://www.jolica.com