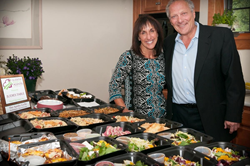 'Half of all proceeds raised during 24 hours of car washes at Saucon Valley Auto Spa on September 13, 2014, will be earmarked for Judie's Heart, the JAACF endowment created for the sole purpose to assist at risk individuals with early detection.'
Bethlehem, PA (PRWEB) August 26, 2014
A Lehigh Valley car wash, Saucon Valley Auto Spa, located at 3501 Route 378, Bethlehem, PA, will be holding a 24 hour benefit car wash, to benefit the nonprofit, Judith Adele Agentis Charitable Foundation (JAACF).
"Half of all proceeds raised during 24 hours of car washes at Saucon Valley Auto Spa on September 13, 2014, will be earmarked for Judie's Heart, the JAACF endowment created for the sole purpose to assist high risk individuals with the means for the early detection of pancreatic, colon, and liver and cervical cancers," says Bob Agentis, founder of JAACF.
The Judith Adele Agentis Charitable Foundation was founded in 2013 and was named after Judie Agentis whose last days were spent at St. Luke's Hospice House. There Judie was cared for with the utmost respect and dignity through her final day by the most amazing and passionate professional people, the nurses and doctors.
The Foundation was formed to provide meals for the families of the guest at Hospice House who vigil with their loved ones and for the staff whose ceaseless dedication leaves them often without a sense of personal need. Thus, Judie's Table, of the JAACF, was founded at St. Luke's Hospice House.
Judie was diagnosed with pancreatic cancer on December 7, 2012, and passed on Thursday, January 10, 2013. The disease that she had there is no known cure at this time. Only the earliest detection by means of a CAT scan could have possibly been a benefit. This is "Judie's Heart" which was formed to create an endowment to fund for education to secure personal early detection screening for Pancreatic, Liver, Colon, Cervical and other cancers. The fund also will provide individuals through its partner diagnostic centers, Easton MRI and Bethlehem MRI and Radiology Center, CAT scans, MRI's for the under-insured and the uninsured.
Judie's Table, also part of the JAACF, is supported by approximately 40 local partner donor restaurants whose owners provide meals to approximate 30 individuals weekly at St. Luke's Hospice. JAACF encourages individuals who may be at risk to take initiative and take necessary steps to have early diagnostic screenings. The foundation also provides a future funding source for promising pancreatic, liver, colon and cancer research.
In the spring of 2014, the JAACF earned the Heart of Hospice Award from the Pennsylvania Hospice Network, recognizing the non-profit for its loyal, steadfast weekly volunteer efforts to deliver delicious meals for 30 family members and staff at St. Luke's Hospice House.
The Benefit Car Wash will also include a benefit dessert sale from 12 noon to 3 p.m. of the finest desserts and baked goods from the Lehigh Valley's finest restaurants.
For more information about the Judith Adele Agentis Charitable Foundation, visit http://www.JAACF.org, or email BobAgentis(at)gmail(dot)com. For more information about Saucon Valley Auto spa, visit http://www.sauconvalleyautospa.com.