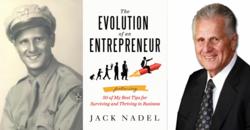 I'm taking a stand to help, from one veteran to another. I want to make a difference in the lives of those who have served and those who I believe have the skills to succeed, much like I did.
Santa Barbara, CA (PRWEB) May 30, 2013
Jack Nadel announced today that he will be gifting thousands of copies of his latest book, The Evolution of an Entrepreneur, to veterans and veteran organizations dedicated toward developing entrepreneurship and professional skills.
After the U.S. Small Business Administration's recent announcement to assist veteran business owners with better loan advantages and access to capital, Nadel decided to create an outreach program of his own to gift veteran entrepreneurs his book, which possesses collected insights and knowledge from Nadel's nearly seven-decade career as a veteran entrepreneur.
"I'm taking a stand to help, from one veteran to another," says Nadel. "I want to make a difference in the lives of those who have served and those who I believe have the skills to succeed, much like I did. The ideas in this book will help veterans to better run their businesses and take greater advantage of the loans offered by the SBA. By virtue of my own experience I believe they can have a better chance for success."
When Nadel came home from WWII after flying 27 B-29 missions over Japan, he knew he wanted to start his own business. Now, after decades of international success, Nadel believes the path forward for many of today's veterans that needs greater consideration is entrepreneurship and wants to assist vets directly through his website http://www.JackNadel.com with a "Gift for Veterans" gifting program to distribute e-books electronically.
"Military service places a premium on developing leadership skills, mission effectiveness and a high need for achievement," outlines Nadel. "These are the very same qualities entrepreneurs need to encourage innovation and take decisive actions in the face of dynamic environments."
Despite numerous signs that our economy is consistently improving, there are still troubling pockets of stagnation. Nowhere is this more evident than with the high unemployment rate among veterans who have returned from deployment. According to online sources, in 2012, young soldiers transitioning to civilian life had an unemployment rate of over 20 percent last year. Combine this with the fact that an expected one million returning veterans will be entering the job market in the next five years. Even though these veterans have much to offer employers, they face many roadblocks including a mismatch between their military training and experience and civilian requirements.
"We have to assist our veterans, many of whom are also facing serious challenges with disabilities and long-term health issues, let alone high unemployment rates," states Nadel, who was decorated with the Distinguished Flying Cross and the Air Medal with 4 Oak Leaf Clusters for his service during WWII.
Nadel's solution is to help to evolve more entrepreneurs and considers the philosophies and tips in The Evolution of an Entrepreneur the crash course that's needed, which can be put into the hands of veterans immediately through his electronic e-book gifting program. He believes evolving entrepreneurs will create a ripple effect of positivity for veterans and the economy from the inside out.
A 2011 SBA study found that veterans with 20 or more years of service were more likely to be self-employed than the civilian population. Currently, there are more than 2.5 million "vetrepreneurs" in the United States, and veterans are at least 45 percent more likely to take the plunge into entrepreneurship than people with no active-duty military experience.
Data from the U.S. Census Bureau in 2007 claimed that veterans owned nine percent of all businesses nationwide, generating $1.2 trillion in receipts and employing nearly 5.8 million people.
"Helping veterans become successful entrepreneurs will help us all," says Nadel. "Small businesses are the engine of job growth in our economy and I know this veteran gifting program and the efforts of the SBA are two ways that we can make a difference for vetrepreneurs now."
Nadel, age 89 and most notably known as founder of Jack Nadel International, retired a few years ago. However, he keeps an active interest in the economy and job creation, global trade and developmental support for veterans. Nadel is a committed philanthropist and continues to mentor entrepreneurs nationwide with books and regular articles.
Veterans and veteran support organizations are encouraged to visit http://www.JackNadel.com and click on "Gift for Veterans" for more info on the program, or contact media(at)jacknadel(dot)com directly with a request for consideration for a set of complimentary gifted e-books of The Evolution of an Entrepreneur. Virtual and telephone interviews with Jack Nadel are available.