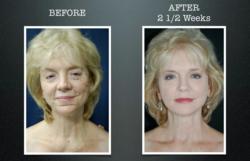 Even after my first experience with the Adivive Fat Transfer System it was obvious that the compressed/filtered fat was of an extraordinary quality...I have not seen similar results during the past 30 years of performing fat injections.
Jacksonville, FL (PRWEB) July 25, 2012
In recent years, medical advancements have made it possible for plastic surgeons to provide patients with less invasive procedures that produce quicker and more optimal results when compared to traditional plastic surgery procedures. One of the most interesting techniques is the Adivive fat transfer system for facial and breast aesthetics. Adivive fat grafting is quickly becoming one of the most sought-after procedures at the Obi Plastic Surgery Clinic in Jacksonville, Florida.
Also, with the exciting introduction of the less invasive SlimLipo™ laser liposuction platform, patients can now have their areas of unwanted fat removed while simultaneously tightening skin of the donor areas. The Adivive fat processing system then concentrates the fat to its purest cellular component suitable for transfer to the face or breasts. The unwanted fat is filtered, centrifuged and Platelet-Rich Plasma (PRP) is then added to enhance the growth factors and stem cell components.
Since the stem cells are derived from adult fat and refined in their purest form, a higher survival rate occurs leaving the patient with better potential for long-lasting results compared to traditional techniques of fat grafting. Quite often Adivive, SlimLipo, PRP enhancement and surgical facelifting procedures are all performed during one surgical session. The recent addition of PRP has enhanced results and decreased healing time.
Dr. Lewis Obi has performed over 450 SlimLipo cases in 3,000 anatomic body areas during the past 45 months. He also has performed approximately 100 Adivive fat grafting procedures since January of 2011. These techniques are applicable to many reconstructive procedures including the treatment of post mastectomy deformities in breast cancer patients. "These unique technological advances are continuing to rapidly evolve at our clinic," explains Dr. Obi during his comments on the recent addition of the Adivive system.
If you would like to learn more about Adivive Autologous Fat Transfer, SlimLipo, PRP and Dr. Lewis Obi's initiatives, visit the http://www.obiplasticsurgery.com or contact the clinic at (904) 399-0905. Email inquiries to info(at)obiplasticsurgery(dot)com.
About Dr. Lewis Obi
Dr. Obi of Obi Plastic Surgery Clinic in Jacksonville, Florida was one of the first cosmetic surgeons in the United States to utilize Palomar's Adivive Fat Transfer System. He actively collaborates with medical specialists both in the United States and abroad to advance the science of many new techniques in plastic surgery. He is a board certified plastic surgeon, frequent lecturer and consultant. Incidentally, he established the first licensed ambulatory plastic surgery center in Florida and has been in practice for over 35 years. Most recently, Dr. Obi was elected as an affiliate member of the California Stem Cell Treatment Center (CSCTC) based in Los Angeles.