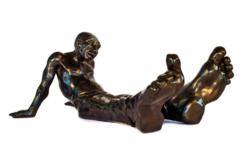 Idan possesses a natural way to shape matter, he sculpts with depth reaching the heart of a territory that he identifies with but does not belong to
Hermosa Beach, Costa Rica (PRWEB) July 18, 2011
Jacob Karpio Gallery, one of the leading contemporary art galleries in Latin America, introduced the Israeli sculptor Idan Zareski during the " Metalogik" multi cultural event that occurred at the Zephyr Palace in Villa Caletas, Costa Rica. Mr. Karpio expressed that he usually scouts for artists in major latin american cities and he was pleased to discover a world class sculptor in Costa Rica.
Mr Karpio explained: ¨I normally visit major cities in search of new talent and I never expected to find such a world-class artist here in Costa Rica. Idan has the ability to convey human emotions through expressions and movements in a very unique way. His work has shades of Africa, his sculptures full of power. Idan possesses a natural way to shape matter, he sculpts with depth reaching the heart of a territory that he identifies with but does not belong to... I say it metaphorically, but Idan is territorial and very earthy... his work is dynamic, both urban and rural, transcendental... "
The "Metalogik" multi cultural event combined art with a taste of Indian Culture throughout various performances and dances. Mr Karpio and his group called "Ramesh Das" played Kirtan, the spiritual music of India. Classical Indian dances of Kathak and Odissi were performed by the Costa Rican dancer Andrea Vargas and her 10 year old student, Tulasi Dasi. Special guest Karnamrita Dasi, acclaimed as one of the most beautiful voices in the Vaishnava tradition, closed the event with a beautiful and emotionally charged performance.
About Idan Zareski
Idan, born in Haifa, Israel, had the chance to live in several different continents. This led him to understand what different races, and cultures share in common. Today his multicultural heritage is a fundamental influence in his work. Spending most of his life trying to fit in the standards of society, his lack of satisfaction with the ordinary led him to understand that his salvation had always been, literally, at his fingertips. Today a devoted sculptor, he lives and creates in the Pacific coast of Costa Rica, the place he now calls home.
About Karnamrita Dasi
Acclaimed as one of the most beautiful voices in the Vaishnava tradition, DASI Karnamrita is an immensely talented vocalist and teacher in the ancient tradition of Bhakti Yoga of India. Raised in an Ashram community in the United States, she has a deep relationship with the classical music of India, specifically of Bhajans and Kirtans, from early childhood. At the age 24, she began formal classical training with her Guruji, Pandit Vidur Mallik in the small village of Vrindaban, in North India. Under his guidance, she studied for nearly a decade, the ancient and rigorous art known as Dhrupad. After his passing, she took further guidance from Maestro Ustad Ali Akbar Khan, in San Rafael, California, where she now resides. Having intimately practiced and studied these arts; her singing and music combine vibrations and the art of sound, into a rare and deeply transformative practice. For the last eight years, she has toured extensively around the world, delighting audiences of thousands in concerts at world music festivals from South Africa, India, Europe, Australia, New Zealand and even the middle East. Her favorite song Devaki was just released on Putamaya's latest compilation: Yoga. Her album DASI: Prayers by Women has won many awards and received great acclaim. "Filled with haunting harmonies, Karnamrita's soulful, velvety voice, blends with mandolins, violins, sarods, sitars, pianos, harmonium, pakawaj, tablas, mrdangam and even the South Indian coconut shells are not missed. This album will make you dance, pray, sing, cry, and feel the depth and souls of ancient women's voices." Amazon.com
About Jacob Karpio Gallery
Twenty five years ago nobody had ever heard of Contemporary Art in Costa Rica. There wasn't any art exhibition nor any artists producing work that would garner the world's attention. Then Jacob Karpio came, who defiantly opened the first gallery of this genre in the country, and today, 25 years later. The famous art publishers from Germany , DUMUNT, appointed Jacob Karpio Gallery in between the leading galleries in the world in the famous book by Uta Grosenick and Raimer Stange named "The International Art Galleries POST - WAR TO POST MILLENIUM"
Next year Jacob Karpio Gallery will celebrate its 30th anniversary. It was founded in Quito , Ecuador in 1982 and it has been in Costa Rica for almost 25 years.
###