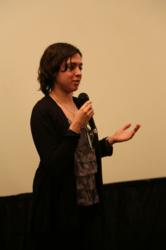 Delray Beach, FL (PRWEB) March 20, 2013
Jacqueline Jimenez is a marketing consultant and head organizer of the South Florida WordPress Meetup Group, the 16th largest group in the world out of over 400 WordPress Meetup Groups worldwide.
As the Marketing Director at AlcantraMedia Jacqueline focuses on every piece of the integrated marketing puzzle at the Boca Raton SEO Firm. She often speaks about social media, marketing strategies, as well as effective WordPress development at conferences and events in Florida. Most recently, Jacqueline will speak at WordCamp Miami 2013 on top WordPress plugins for building a new website.
Jacqueline has been applauded for her unique approach, strategy, and ROI through Internet marketing at speaking engagements. Through her leadership at the South Florida WordPress Meetup Group, Jacqueline and fellow co-organizers have re-ignited the WordPress community with monthly events in Fort Lauderdale and Miami. The group currently has close to 1,000 members and its purpose is both for educational and networking opportunities.
This leads up to WordCamp Miami, the annual conference with both WordPress core developers and local speakers presenting at the weekend event April 5-7, 2013. WordCamp Miami 2013 is a three-day event that covers topics relating to WordPress, front-end development, and much more. Jacqueline's role is to cover social media updates and SMS for the weekend's events, as well as planning and speaking at WordCamp Miami.
Through the Jacqueline's partnership with Miami Public Speakers, she will be a represented speaker and subject matter expert available for hire. For more information about Jacqueline's availability and speaking fees click here.
About: Jacqueline Jimenez is the Marketing Director at Boca Raton SEO firm Alcantara Media. She often speaks about WordPress and social media marketing at conferences and local events, as the WordPress South Florida Group co-organizer. She executes social media and integrated marketing campaigns for high-profile clients, authors, and entrepreneurs. Her marketing vision is unparalleled and her execution of creative ideas is what sets her apart.
http://alcantaramedia.com
About Miami Public Speakers: Miami Public speakers is South Florida's leading speakers bureau. Our mission is to help organizations find the best public speaker for their needs. Learn more at http://miamipublicspeakers.com/