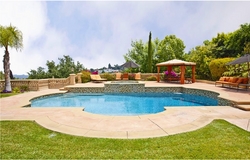 Beverly Hills, CA (PRWEB) September 28, 2010
Jade Mills is delighted to announce that Mike and Irena Medavoy will soon move into the home of their dreams. After eyeing the property in a gated community for about three years, the Medavoys purchased the home where they will be neighbors to Robbie Williams, Brian Wilson, Vanna White and Charlie Sheen.
CLICK HERE TO VIEW THE PROPERTY
Mike and Irena will have the pleasure of enjoying their new luxury, 9,020 square foot home, with a private-screening room, neighborly tennis matches and community pick-up games on a basketball court designed and installed for the legendary Shaquille O'Neal; a perfect fit for the family with a six foot four inch son with a passion for basketball.
Mike Medavoy, CEO of Phoenix Films, has produced many popular Hollywood hits during the span of his career, including, the recently released, Shutter Island, directed by Martin Scorsese. Earlier in his career, before rising to his position with Phoenix Films, Medavoy was connected with many popular films, such as Platoon, Robocop, The Terminator, Dances with Wolves and Silence of the Lambs. His new home, in this private community, should make him feel right at home, surrounding him with big name celebrities and other entertainment moguls.
Jade Mills consistently ranks in the top 10 of The Wall Street Journal's annual list of the top Real Estate Sales Professionals in the United States. For more information about luxury properties in the Los Angeles area, please visit http://www.jademillsestates.com or contact Jade Mills by phone 310.285.7508 or e-mail homes(at)jademills(dot)com.
The home was purchased from Antoine Fuqua, director of Training Day. Barbara and Nichelle Robinson of Hilton & Hyland represented the seller.
###