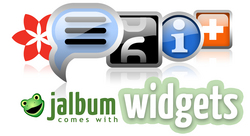 By incorporating the best of modern interactive features into millions of Jalbums, we'll let the world's most forward photographers finally challenge the notion that a picture is worth a thousand words
Stockholm, Sweden (PRWEB) December 3, 2008
Jalbum.net , the premier community of photographers and cutting-edge digital presentation tools, today launched Jalbum Widgets and expanded the reach of digital images across the Web. Already the software of elite photographers, Jalbum offers its millions of users a free and simple way to display images on any web site, as well as limitless options for personalizing custom displays. With the release of Jalbum Widgets, anyone with digital images can now incorporate face detection and tagging, build conversations around images, monitor popularity and enable any viewer to spread the word.
"By incorporating the best of modern interactive features into millions of Jalbums, we'll let the world's most forward photographers finally challenge the notion that a picture is worth a thousand words," said Andreas Sjölund, CEO of Jalbum. "We will continue to develop Jalbum to meet the needs of the people who enhance our understanding of the world."
The Widgets launched today, and incorporated in the free download available at http://www.jalbum.net ], are:
Comments - enabling end users or creators to add context to albums or individual photos. The most demanded feature from existing users, this dialog will enhance the creative process.
Visitor Counts - simple tracking counter to determine the popularity of individual images will eliminate the need for configuring logging tools and let photographers build understanding of their audience's interests.
About - displays more information about the album and the photographer. It also allows for easy browsing between different albums from that user.
Sharing - allowing Facebook, Myspace, Digg and other social interaction site sharing in a simple and intuitive way.
Face Recognition - award-winning Polar Rose Face Recognition Widget lets users sort, search, and share their albums based on who appear in the photos.
"We are thrilled to partner with Jalbum.net to establish new standards for high- quality sharing of digital photos," said Nikolaj Nyholm, CEO of Polar Rose. "By incorporating Polar Rose's unobtrusive face recognition, Jalbum users are given an easy option to see familiar faces in scenes from their world."
"Our users trust Jalbum to continuously leap-frog static photo sharing tools," said David Ekholm, Jalbum Founder and CTO. "The widgets we release today are a reflection of the Jalbum community's desire to challenge the frontiers of digital image display."
About Jalbum
Stockholm, Sweden based Jalbum.net is the premier community of photographers and cutting-edge digital presentation tools. Jalbum was started as a hobby project by David Ekholm in 2002. Over four million downloads of Jalbum software have enabled amateur and professional photographers alike to create more than 22 million custom and expressive albums. Creators may display photographs on the Jalbum.net network or host them on their professional or personal websites. Funded by Nordic Venture Partners since 2006, Jalbum currently has 10 employees.
For high-resolution pictures and additional info visit http://jalbum.net/press
Press contact Jalbum:
Carl Manneh
Mobile: +46 735 24 45 80
Skype: carlmanneh
# # #