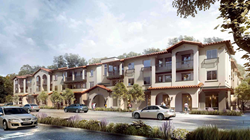 SANTA ANA, Calif. (PRWEB) January 04, 2019
WHO:
Jamboree Housing Corporation, a leading nonprofit affordable housing developer in CA
City of Santa Ana, CA
County of Orange, CA
WHAT:
Veterans Village Groundbreaking
Interview and Photo Opportunities: In addition to architectural renderings as well as site and floor plans, guests will see furnished room vignettes – courtesy of the Supportive Housing Treatment/Recovery Facilities division of CORT, a Berkshire Hathaway Company – Jamboree's interior furnishings consultant for the development.

Santa Ana Veteran's Village will combine high quality housing with comprehensive onsite supportive services – together with a rich mix of veteran services organizations – for formerly homeless veteran residents who earn no more than 30 percent of the county's area median income (AMI) and who are eligible under the Veterans Affairs Supportive Housing (VASH) program. The VASH program is funded by the U.S. Department of Housing and Urban Development (HUD) to provide housing vouchers for homeless veterans in areas of the country that have the highest number of homeless veterans.
While more than 700 veterans call a Jamboree property home, this is the nonprofit developer's first dedicated property for veterans and, when complete, will be Orange County's largest housing development exclusively for veterans.
Participants
City of Santa Ana: Mayor Miguel Pulido and City Council
County of Orange: Chairman Andrew Do and Board of Supervisors
U.S. District Court: Honorable David O. Carter
U.S. Department of Housing and Urban Development (HUD): Ray Brewer, Los Angeles Field Office Director
Veterans Administration (VA) Long Beach Healthcare System: Walt C. Dannenberg, Director
Goodwill of Orange County's Tierney Center for Veterans Services: Brigadier General Denton Knapp, California State Military Reserve and Director, Tierney Center for Veterans Services
Other Santa Ana Veterans Village Collaborative Partners: Veterans Legal Institute, Strength in Support, Step Up
Other Funding Partners: Including Orange County Community Foundation (OCCF), OC Health Care Agency, The Home Depot Foundation
American Legion Newport Harbor Post 291: Brian Fleming, Jr., Honor Guard Commander
WHEN:
Monday, January 7, 2019 10:30am to 1pm (ceremony begins at 11am)
WHERE:
Santa Ana Veterans Village
3312 West 1st Street, Santa Ana, CA 92703 (between Harbor Boulevard and Fairview Avenue)
WHY:
While more than 700 veterans live in Jamboree properties across California, this is Jamboree's first dedicated property for veterans struggling with homelessness and a range of other challenges. By bringing together partner agencies, Santa Ana Veterans Village will be a hub of enriched programming and activities to support the veterans living here with employment, health and other special services.
According to the 2015 U.S. Census, approximately 123,000 veterans live in Orange County, and in 2017, a survey of Orange County's homeless population found that 12% of the homeless were veterans. Without employment, finding affordable housing is next to impossible, especially in Orange County, the sixth most expensive urban area in which to live throughout the United States.
Additionally, Permanent Supportive Housing for those who are homeless – and who may struggle with a variety of disabilities and other challenges – includes supportive services to ensure the residents remain housed and avoid a return to homelessness. This strategy is a proven, cost-effective solution to housing those struggling with homelessness. As a result of decreases in service utilization and criminal justice contacts, the estimated average annual cost of services in Orange County is 50% cheaper for the chronically homeless person living in permanent supportive housing with services ($51,587) as compared to that same person living on the street and in emergency shelters ($100,759). And, the annual cost of services for the most chronically homeless person on the street is $439,787. The annual cost to house that same person in permanent supportive housing with services is $55,332 – a cost savings of more than 88%.
Since the release of this study, the County of Orange has adopted a plan and committed to fund construction of 2,700 supportive housing units over the next three to five years, which would end chronic homelessness in Orange County. Jamboree's Santa Ana Veterans Village is the first 75 units of this countywide plan – an honor according to the nonprofit developer.
Based on this study conducted by UC Irvine and funded by Jamboree and United Way Orange County, Santa Ana Veterans Village has the potential to save Orange County more than $2.5 million in emergency services, unnecessary hospitalizations and other expenses annually by providing 75 homeless veterans with housing and services.
HOW:
In collaboration with the City of Santa Ana, the County of Orange, the Veterans Administration (VA) and other leading veterans service organizations, Jamboree's design concept for this innovative development is "to be a sanctuary of stability and a hub of hope" for some of Orange County's most vulnerable veterans. This concept will be brought to life with a U-shaped, three-story, elevatored residential building of 75 one- and two-bedroom apartments that opens onto a spacious courtyard, nearly 10,000 square feet of active open space – including a community garden and reflection walk – and a 4,500-square-foot community center that will be home to a veterans services collaborative.
With the creation of the Santa Ana Veterans Village Collaborative, Jamboree's innovative approach to community impact brings together – in one place – some of Orange County's leading veterans service agencies to support residents as well as veterans throughout the community. These include Veterans Affairs Long Beach Healthcare System, Goodwill of Orange County's Tierney Center for Veterans Services, Veterans Legal Institute, Strength in Support, and Step Up. This collaborative approach to a veterans services center will provide onsite mental health counseling, wellness services, employment services, and legal assistance.
The property will feature a contemporary interpretation of Spanish revival architecture with characteristic stucco walls, colorful tile accents, arches and ornamental ironwork. In line with Jamboree's ongoing commitment to sustainability, the development is designed to achieve a LEED (Leadership in Energy & Environmental Design) for Homes-certified Gold rating. This lowers energy consumption, provides a cost-saving benefit to and promotes the health of residents. It will comply with Americans With Disabilities Act (ADA) requirements and will adhere to the provisions of the California Building Code for accessibility.
Outdoor amenities in the nearly 10,000-square-feet of active open space also include a lounge and barbecue/dining areas, dog run, and basketball half-court. Indoor amenities include a TV room and lounge area, pet spa, laundry room, fitness center and yoga room, counseling offices, multipurpose rooms and a kitchen.
A testament to the uniqueness of this community, Jamboree has brought together a nexus of nine different funding partners – including private groups like The Home Depot Foundation and the Orange County Community Foundation (OCCF) – to create the financing necessary to construct a long-lasting affordable community for low-income veterans.
Property Fact Sheet:
Available upon request.
About Jamboree:
Founded in 1990, Irvine, CA-headquartered Jamboree Housing Corporation is an award-winning, broad-based nonprofit housing development company that develops, acquires, renovates and manages permanently affordable rental and ownership housing throughout California for working families, seniors and people with special needs. A leading community development organization, Jamboree is committed to sustaining excellence with high quality affordable housing that benefits the environment, the economy and local communities. It currently has $300 million in affordable housing projects in its development pipeline and a $1.1 billion asset portfolio that includes the development of and/or ownership interest in more than 8,500 homes in more than 91 California communities.
Currently, Jamboree's Community Impact Group offers resident services that foster learning, health and wellness, and community building at 34 Jamboree communities with designated staff at each location. As Orange County's largest developer of Permanent Support Housing, Jamboree has developed more than 100 units that provide permanent homes with services to the chronically homeless who have a mental health condition. For more information, visit jamboreehousing.com and follow Jamboree on LinkedIn, Facebook and Instagram at @JamboreeHousing.