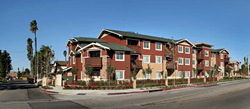 ANAHEIM, Calif. (PRWEB) February 08, 2019
WHO:
Jamboree Housing Corporation, a leading nonprofit affordable housing developer in CA and Orange County's largest developer of Permanent Supportive Housing
WHAT:
Diamond Apartment Homes 10th Anniversary Celebration
Photo and Interview Opportunities: Guests will have opportunities to hear from a variety of elected officials integral to Diamond's ongoing success, current and previous Diamond residents who will speak to the stability Diamond has provided, and take tours of the property, including the grounds, community space, and resident apartments.
Participants
65th Assembly District: Assemblywoman Sharon Quirk-Silva
City of Anaheim: Mayor Harry Sidhu and Curt Pringle, Former Mayor (2002-2010) and Former California State Assembly Speaker
Telecare Corporation: Dr. Ed Bienkowski, Regional Director of Operations
Diamond Residents: (include)

Tommy Simcox, veteran and former career banker: A speaker at Diamond's grand opening in 2009, Tommy came to Diamond after experiencing homelessness for eight years. Stabilized and thriving at Diamond, Tommy was able to move to an Anaheim Hills senior community in 2013. He credits his long-term success to the programs and services provided by Jamboree's Community Impact Group, helping him to develop a sense of community and t ust with onsite Resident Service Coordinators.
Rhonda Polite, veteran, stroke survivor, and single mother of three: A 10-year resident at Diamond, Rhonda came to the community after multiple bouts of homelessness, including several months sleeping at a bus stop. She currently lives at Diamond with her youngest daughter. With the stability and supportive services at Diamond, Rhonda has furthered her education and now works at the Veterans Administration Long Beach Healthcare System, a fitting transition for this six-year Navy veteran. Rhonda is Diamond's matriarch, loved and respected by all of the residents. Rhonda believes that Diamond showed her "how she could change."
WHEN:
Friday, February 8, 2019 11:00am to 1pm (ceremony begins at 11am)
WHERE:
Diamond Apartment Homes
1310 W. Diamond Street, Anaheim, California
WHY:
Fifteen years ago this November, Californians passed Proposition 63, the Mental Health Service Act (MHSA), a measure aimed at assisting those with severe and persistent mental health illnesses who are also experiencing homelessness. However, putting these funds to use proved difficult as it took nearly five years for any developer to successfully fund a Permanent Supportive Housing project with MHSA funds.
In 2009, Jamboree became the first developer to successfully build California's first MHSA-funded housing development. Facing fierce public opposition, Jamboree combined a proactive and extensive community outreach approach with the political will of the Anaheim City Council to ensure the development's approval. A unique collaboration between the architect and Jamboree, with community input from Anaheim residents, was influential in many design decisions that have positively impacted Diamond's ongoing success with residents and neighbors alike.
Now, 10 years later, Diamond is an award-winning model of Permanent Supportive Housing. As millions of MHSA dollars continue to go underutilized in the State of California, Diamond is an example of Jamboree's ability to effectively educate and engage local neighborhood groups and create a public/private partnership to navigate complex funding mechanisms that, in turn, brings housing with services to some of California's most vulnerable residents.
HOW:
In collaboration with the City of Anaheim, the County of Orange, and H.O.M.E.S. (Helping Our Mentally Ill Experience Success), which later merged with Jamboree in 2010, Jamboree helped lead the development of Diamond, a pioneering multifamily apartment community that provides both housing and mental health supportive services for previously homeless individuals and their families in Orange County. Diamond takes a different approach by providing housing that allows families to remain together – and, in some cases, reunite them.
Integral to the success of Diamond is the inclusion of fully funded, ongoing supportive services – delivered with a "whatever it takes" approach – that enables residents to live in supportive housing with a stable environment. Telecare Corporation, the OC Health Care Agency's mental health services partner, provides residents with 24/7 availability for support of daily living activities and links them to other supportive and independent living services.
Additionally, Jamboree's Community Impact Group offers free, non-clinical, resident services and programs tailored to meet the needs of residents and their families. These programs link residents to Jamboree's network of community services in the greater Anaheim area and include onsite activities such as homework assistance and tutoring for children, consumer credit counseling, financial literacy and pre-employment counseling for adults. This enhanced level of support to residents is an award-winning example of effective partnerships that are making a marked impact for these residents and their families.
Once a vacant lot, Diamond combines the creative use of land, sustainable building practices, and strategic public/private partnerships under one roof. The unique architectural fabric of the neighborhood – a distinct style of the Anaheim colony – required creating a building type with seamless architectural elements using the same high quality finishes and materials as nearby market-rate communities. Diamond continues to far exceed standard mental health community measures of success in residential stability, increased skills or income, and greater self-determination.
At an original cost of $9.6 million, Diamond is a valuable community asset that translates to taxpayer savings of up to $1.18 million each year – or a cumulative savings of approximately $11.8 million for its decade of continuous and successful operation. That's based on the Homelessness in Orange County: The Costs to Our Community study conducted by UC Irvine and funded by Jamboree and United Way Orange County in 2017, which revealed that the estimated average annual cost of services in Orange County is 50% cheaper for the chronically homeless person living in permanent supportive housing with services ($51,587) as compared to that same person living on the street and in emergency shelters ($100,759).
Most importantly, Diamond continues to open a door – and a new way of life – for 24 formerly homeless individuals and their families who remain stably housed each year.
Property Fact & Stats Sheets:
Available upon request, including An Approach, Economics, Impact, Residents & Services for Long-term Success
About Jamboree:
Founded in 1990, Irvine, CA-headquartered Jamboree Housing Corporation is an award-winning, broad-based nonprofit housing development company that develops, acquires, renovates and manages permanently affordable rental and ownership housing throughout California for working families, seniors, veterans, and people with special needs. A leading community development organization, Jamboree is committed to sustaining excellence with high quality affordable housing that benefits the environment, the economy and local communities. It currently has $300 million in affordable housing projects in its development pipeline and a $1.1 billion asset portfolio that includes the development of and/or ownership interest in more than 9,000 homes in more than 93 California communities.
Currently, Jamboree's Community Impact Group offers resident services that foster learning, health and wellness, and community building at 34 Jamboree communities with designated staff at each location. As Orange County's largest developer of Permanent Support Housing, Jamboree has developed more than 100 units that provide permanent homes with services to the chronically homeless who have a mental health condition. For more information, visit jamboreehousing.com>WHAT>Resident Services>Permanent Supportive Housing and follow Jamboree on LinkedIn, Facebook and Instagram at @JamboreeHousing.