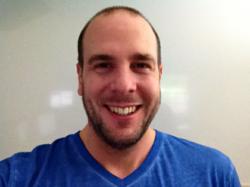 Ware identifies scarcity and deadlines as the tools his company tests and uses to build large email lists. 'I noticed early on that just having a deadline and having some aspects of scarcity around your offer really improves chronic conversion rate.'
Sydney, NSW (PRWEB) March 01, 2013
Eugene Ware, co-founder of market research organization Noble Samurai (the team behind the revolutionary keyword research software package Market Samurai) speaks with Super Fast Business CEO James Schramko in a recent podcast about WordPress software development, conversions, and email list building. The two seasoned Internet marketers also focus on how Noble Samurai's latest offering, Scarcity Samurai, can be just the powerhouse tool that business owners need to give their opt-in and conversation rates (and consequently, their profits) a welcome boost.
Schramko begins the podcast by pointing out how Market Samurai is being used by hundreds of thousands of marketers across the globe; there are currently around 700,000 copies of the software product released — about 72,000 of which are paid versions. "Being a software company, we've been really blessed," shares Ware. "We've been able to develop our own marketing technology... and we've built a whole bunch of things which are responsible for our high opt-in ranks, our high conversion ranks."
The Australian software developer specifically identifies the concepts of scarcity and deadlines as the tools his company has been testing and using to build incredibly large email lists.
"One of my real passions — and what I really regard myself as a real student of, much like yourself, James — has been in conversion and in copywriting. And I noticed early on that just having a deadline and having some aspects of scarcity around your offer really improves chronic conversion rate."
Ware takes his appreciation of the scarcity principle from the book "Science of Influence" by Robert Cialdini. He explains how the book teaches that influence boils down to six basic factors: social proof, authority, liking, reciprocity, commitment and consistency, and scarcity. However, the factor that can be the most powerful on its own proves to be scarcity.
Scarcity marketing is the practice of making a product or a service available to consumers for a limited time and letting them know that there are only limited stocks to go around. This is where the WordPress plugin Scarcity Samurai comes in; with this nifty tool, online business owners are able to develop their own scarcity marketing campaign. They announce a limited-time offer (for example, a product originally priced at $150 dollars drops by half, but only for seven days after a customer opts in to the site); a timer will be displayed on the site to let users know how much time they have left to purchase the product at the lowered rate. This urgency and scarcity factor has been found to greatly influence consumers into purchasing products and signing up for services, which means companies can increase conversions, get higher opt-in rates, and of course, increased profits.
The WordPress plugin enables ventures to create single-page, multi-page, fixed date or evergreen scarcity campaigns with just a few clicks of a mouse. The software can be easily integrated to an existing autoresponder system like AWeber for greater performance. In addition, Scarcity Samurai can also be an excellent tool for boosting affiliate sales.
With this technology powering a website, Ware emphasizes that a business can increase conversions not just by 100% or even 200%; companies can actually experience 450% improvement in their conversion rates simply by having visualized scarcity, utilizing the Scarcity Samurai plugin, and just mentioning the deadline in emails, subject lines and others.
As the entrepreneurs close their podcast, Ware offers this advice for better success to business owners: "Be Customer Number One of your product. If you're the first person that's really excited to get your hands on this product — and you're using your product — then, not to say that people might not want what you've built, but there's a better chance that they will."
To help business owners learn more about successfully launching a scarcity marketing campaign and increasing conversion and opt-in rates, a full user review of Scarcity Samurai can be found at BuyWithBonus.com.