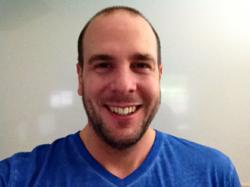 What is the one thing that Fast Web Formula members like best about their membership? Responses primarily pointed to the relevance of the forum's training modules to the members' actual business practices, giving them value for money every single time.
Sydney, Australia (PRWEB) November 06, 2012
A recent Internet marketing news update video released by SuperFastBusiness.com shows its CEO James Schramko at Val d'Europe Shopping Center in Paris, France, holding up a delicious chocolate waffle and a brand-new bag—this is the marketing expert's creative illustration for explaining how his Internet business coaching forum community FastWebFormula.com helps provide its members with satisfying experiences that produce positive results exactly where their businesses need them.
"This week, I asked Fast Web Formula members: 'What is the one thing that you get from Fast Web Formula that makes it worth your membership fee?' I'm really curious about how you get the best value," Schramko explains. Member responses primarily pointed to the relevance of the forum's training modules to the members' actual business practices, giving them value for money every single time.
"It's just like me coming to this shopping center to get my bag and my chocolate waffle—these are the exact things that I came to get and they really satisfied my trip here. It was worth coming just to get those things."
Moving on to the subject of payment schemes, the CEO shares how the retainer model has been ideal for his particular setup for the past five straight years. A retainer agreement requires an employer or client to pay a service provider in advance for work to be specified later. The client pays a fee so they can call upon a business for its services whenever they need to, meaning the business still receives recurring monthly payments (and long term earnings) even if it doesn't perform work for the entire duration of the agreement.
"When you have a number of clients on a few thousand dollars a month, you could get a six-figure-a-year income just like that without having to do too much effort—just by tapping into things that are naturally easy for you to talk about," Schramko points out.
The entrepreneur also elaborates on the importance of creating simple yet effective squeeze pages (landing pages designed specifically to encourage potential subscribers to opt in for a company's services) as part of a successful marketing campaign.
"Simple is often the easiest," he emphasizes. "Make it the most relevant thing that you can offer for your customers. Keep it simple and keep the design nice, clean, and easy to understand. As Steve Krug would say, 'Don't make me think."
Schramko adds that business owners must make sure to test their squeeze pages; different variations can show them the different percentages they can get and help them choose the one with the best results. He also encourages online marketers to measure the lifetime value of their customers.
"Don't simply focus on the upfront opt-in; consider the long-term purchase percentages as well, because they will be different," he says. "Even though you might have a high upfront opt-in, they may not buy... A training sequence might have a lower opt-in, but they actually end up buying more."
To cap off the news update, Schramko announces a special treat for Fast Web Formula members: Dan Norris recently posted "Eight Profit Tips from Derik Sivers" (Dan Norris is the founder of WebControlRoom.com while Derik Sivers is the founder and former president of online store CD Baby). Early intermediate to advanced online marketers are invited to join Fast Web Formula and receive valuable marketing training resources that can give their business a healthy boost.