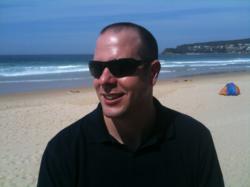 I will answer questions related to business growth, on the spot, just like I do in our SilverCircle Mastermind classes. If you'd like to have a chance to ask your question, register now
Sydney, Australia (PRWEB) October 11, 2011
Internet marketing expert, James Schramko, is hosting a Live Business Growth Coaching Event this coming Thursday, October 13th – free of charge.
This special presentation is in response to a survey conducted on FastWebFormula 3 registrants, tackling specific aspects on business growth.
A brief interview with James Schramko reveals the top 3 topics that he will cover, among others:
How to start a business
"This is one of the questions I get asked most frequently and this doesn't apply to just online businesses. It applies to starting a business in general. Most business owners, myself included, have had to start out by working two jobs. Squeezing in a little extra time into running your business after long working hours can be stressful – for some people it may even seem impossible. I will tell you how I started my business, and how to make the transition from working for someone else to working for yourself."
Pricing and cash flow strategies
"Placing a price on your own product is a decision that requires more than just math. This is vital knowledge in growing your business. This requires research and a lot of planning ahead. Related to pricing is managing your cash flow for profit. I have set up a mind map for easy reference."
Improving Productivity
"There are tons of distractions we encounter in our day-to-day lives, and these are usually what get in the way of growing your business. A systematic analysis of your own productivity killers is of key importance."
Live Q & A
"The webinar is 100% live, not pre-recorded. We will have a Live Question and Answer portion as a special gift to those who attend the webinar. I will answer questions related to business growth, on the spot, just like I do in our SilverCircle Mastermind classes. If you'd like to have a chance to ask your question, register now."
The webinar will take place on the 13th of October at the following time:

7:00 PM - 8:00 PM AEDT [Sydney]
4:00 AM - 5:00 AM EDT [New York]
9:00 AM - 10:00 AM BST [London]
Registrants will receive a PDF copy of James Schramko's brand new mind map and a recording of the webinar free of charge.
"If for any reason you can't make it, you are entitled to receive a copy of the recording along with the mind map. I have included a very special FastWebFormula 3 offer for those who register. See you there." –James Schramko
For registration and additional information head to http://www.getwebinar.co/fwf/index2.html
About FastWebFormula3
An internet marketing training workshop hosted by renowned business expert James Schramko, where he and his contemporaries, discuss the latest trends and cutting edge internet marketing strategies. The 3-day event is set to happen on live October 28-30, 2011 in Caloundra, Queensland, Australia.
About SilverCircle
James Schramko's business mastermind group brings together highly focused business minds to share ideas and learn elite level tactics.
About James Schramko
Schramko started SuperfastBusiness 6 years ago. James has since become one of the most sought-after Internet Marketing Coaches in the world. Author of the tremendously successful Traffic Grab as well as the FastWebFormula live event series, James provides search engine optimization services to hundreds of clients around the world.
###