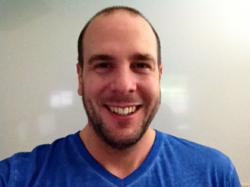 Think about all of the times you've helped coach your customers or prospects. What do you keep saying that you can automate with a video? Once you've got that video, you could make it once and then send people back to it when they ask the same question.
Sydney, NSW (PRWEB) March 28, 2013
Most online entrepreneurs and website owners seeking to consistently engage their target audiences have a shared experience of struggling to find fresh and compelling ideas for quality content. In a recent business news update, Internet marketing expert James Schramko suggests remarkable sources of ideas and points out a good way to make the most out of the created piece.
"The stumbling block for some website owners is what to make your content about," the founder and CEO of SuperFastBusiness explains at the beginning of the business news update.
In the first part of Schramko's introductory module for the renowned Own the Racecourse training course, the entrepreneur notably presented a checklist of ideal sources of information that could provide a wealth of topics for articles, videos, podcasts, and other types of content. These sources include RSS feeds, alerts, heatmaps, split tests, surveys, help desks, and popular search engine webmaster tools, to name a few. The point of utilizing these sources is to avoid starting with the keyword tool, which is where most people are likely to start.
"They look at the keyword tool; they search for the classic higher search volume, good competition, rankable. Forget that," Schramko had advised in the module. "Let's go to real people. Let's be real marketers and solve problems."
What he recommends today, in addition to choosing the sources in the aforementioned checklist, is for online marketers to turn to the very same people they create the content for — their customers.
"I encourage you to think about all of the times you've helped coach your customers or prospects — all the telephone calls you've done, all the support questions you've answered," he emphasizes. "What do you keep saying over and over again that you can automate with a video? Because once you've got that video, you could make it once, and then keep sending people back to it every time they ask the same question."
To get business owners started on this manner of creating content, Schramko encourages them to pinpoint a specific question that gets thrown at them regularly. The answer that they formulate for this popular question will already serve as an excellent subject for, say, a website's latest weekly news video installment.
It would be more beneficial for both ends, the CEO adds, if the selected question is one that leads to a sale as well. "Remember to put a clear call to action into your video. And then all you have to do when someone asks you a question that relates to this topic is send them to the video."
Instructing the company's support team to send people — Web users from different backgrounds as well as potential customers — to the video is also a great way to bring traffic to the website.
SuperFastBusiness.com makes it a point to regularly post business, traffic, and website news updates to effectively make announcements, share relevant business information, and establish a healthy connection with its clients and Web visitors. Schramko gains plenty of insight and ideas for his videos from questions and discussions within two successful membership ventures he had created: SilverCircle, the high performance business mastermind, and FastWebFormula, an Internet business forum coaching community. By addressing a concern that is actually on the minds of the target audience, a company can effectively provide authentic guidance and value for customers — and it also lets them know about the company's commitment to meet their specific needs.
"You really can automate and leverage yourself when you're making good content. So get out there and make an actionable piece of content this week that addresses a common concern that you hear over and over again," Schramko urges. "I'm doing that right now because the big one that I hear is 'What can my video be about?' And I'll be sure to send people to this video if they ask me that."
For more content creation ideas or for exceptional website distribution promotion and authority building services, visit LinkJuice.com.