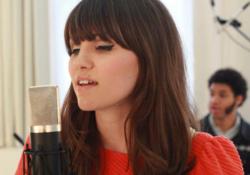 Indie-Pop/Rock Artist Janet LaBelle Recently Released Two Music Videos, Now Catch Her Live at Flywheel in Easthampton, MA Saturday night!
Easthampton, MA (PRWEB) September 26, 2012
Indie-Pop/Rock artist Janet LaBelle has recently released two music videos for her songs, "Goodbye, Baby" off Blossom and Blue (2011) and "Just a Little Rain" now catch her live at Flywheel Arts Center in Easthampton, MA.
Janet LaBelle live at Flywheel Arts Center
Saturday, September 29th - 7PM
with special guests: Walking Ghosts, And The Traveler, and Medicine Man
Flywheel Arts Center
43 Main Street,
Easthampton, MA 01027
Phone: (413) 527-9800
Tickets: $7
All Ages
Janet LaBelle is right up there with the likes of Fiona Apple, Norah Jones, and Zooey Deschanel. It is her long experimentation with new sounds and arrangements inspired by iconic artists such as the Beach Boys, Elton John, Janis Joplin and Jenny Lewis that sets her apart. She highly values the classic analog sound and the discipline of recording in that medium and recorded her latest album live to analog tape giving her a lo-fi edge that is so on point in today's music scene.
Regarding her most recent single release LaBelle comments, "When people listen to my music, I want them to hear something that is both foreign and familiar," says LaBelle, "I feel that people connect well to the familiar and are intrigued by the foreign. I wrote 'Just a Little Rain' to that effect with the hopes that the universal themes addressed would allow the listener to have their own personal take on the song." The two videos were recorded live, achieving her goal of presenting the audience with both a personal and spontaneous experience, as well as capturing her charismatic presence. The videos have a classic feel to them that feels comforting yet edgy. LaBelle's voice and personality shine through her music, all wrapped up in a perfect package of classy rock and roll style.
LaBelle became enthralled with playing and writing music at a very early age. Starting with piano lessons at the age of 7, LaBelle discovered her love of music and her desire to experiment. She later tried her hand at everything from piano to the drums, taking up a job as a school janitor, where she literally scraped and saved up enough money to buy instruments. It was the pop-punk band, Avery, she started in high school, that set the groundwork for her love of writing and performing. Avery later signed with the indie label, Small Records. With a background of playing in bands, it is important to LaBelle that her records are presented in a full band context rather than just that of a solo singer/songwriter.
LaBelle, who currently lives in New York City, is gearing up for a series of live performances in 2012, as well as working on material for a new full-length album. She also performs with Jimmy Destri (Blondie) in his band: Jimmy Destri & the Sound Grenade.
In addition to this show, you can also catch Janet live at the following dates and venues:
Sept. 26th The Fire, Philadelphia, PA 8PM
Sept. 27th John & Peter's, New Hope, PA 9pm
Sept. 29th Flywheel Arts Collective Easthampton, MA 8pm
For more information on Janet LaBelle please check out her website (http://www.janetlabelle.com), Facebook (http://www.facebook.com/janetlabellemusic), Twitter (http://www.twitter.com/janetlabelle), and Tumblr (http://www.janetlabelle.tumblr.com).
For interviews or more information on this event, please contact Melissa Zeigler: melissa(at)powderfingerpromo(dot)com.