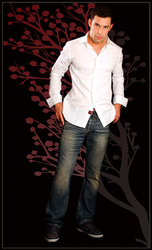 Los Angeles, CA (PRWEB) July 21, 2008
The Takumi men's clothing collection for Spring/Summer 2009 consists of an entirely updated denim line constructed from Japanese artisanal denim and luxury shirts made from the finest Japanese shirting, as well as organic clothing options.
Takumi means artisan in Japanese. All products in the Takumi's men's clothing collection are handcrafted in Japan in small numbers by artisans who seek perfection in details.
Takumi jeans are beautifully constructed from Japanese selvage denim woven on an antique wooden shuttle loom in Okayama, Japan. The jeans are made with old machinery and sewing methods to replicate the quality of jeans made 100 years ago. New for this season, Takumi is introducing a wide range of vintage washes, some 100% organic denim and lightweight stretch denim designed for gentlemen. Takumi jeans are sold at premium denim boutiques like Blue in Green. Takumi jeans retail between $240-$330.
Takumi shirts are made with hand rolled canvas collars, stunning contrast fabric on the cuffs, thick shell buttons, and rich, luxury shirting woven in Japan. The shirts are handcrafted in an artisan workshop in Mobara -- located in the Chiba prefecture of Japan. Only 500 shirts are made in each style. For Spring 09, Takumi is introducing new modern slim fit styles, ultra lightweight Japanese shirting and convertible cuffs. Takumi luxury shirts retail between $198-$225 and are sold at high-end specialty stores like Atrium and Douglas Fir.
The line's designer and founder Luis Pedroza was born in Taiwan of Japanese, Chinese and Mexican ancestry. Over the last decade, Luis has worked on many brands throughout Asia and Eastern Europe. With this men's clothing line, Luis fuses Japanese textile traditions with his love of European bespoke tailoring and the simple beauty of vintage American denim. He is also introducing some organic clothing.
###