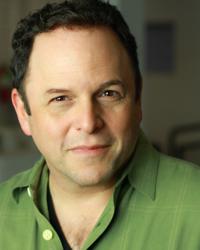 What you see on my head is a really good, semi-permanent hairpiece. By semi-permanent I mean that I can wear it constantly for weeks at a time, if I so choose. I can swim, shower, work out - whatever. It stays on.
Los Angeles, CA (PRWEB) March 01, 2012
Farrell Hair Replacement, a world leader in ultra custom, non-surgical hair replacement, announced today the release of a new video interview with film and television star Jason Alexander.
Most of us are familiar with the character of George Louis Costanza in the American television sitcom 'Seinfeld', and know that George was constantly trying to find a miracle cure for his baldness. The character of George was played by Jason Alexander who embodied the 1980s bald look. The amazing thing is that now, despite the fact he is in his 50s, Jason looks more youthful than he looked in his 30s while playing George.
The famous celebrity news site TMZ posted recent pictures of Jason and commented on his new look. It says, "Jason Alexander: The Magical Hair Growth." Well, Jason has revealed the secret of his youthful look: Farrell Hair Replacement. He is not ashamed to acknowledge that he is wearing a hairpiece now.
In Search Of The Miracle Cure
In an interview, Jason said that he started balding at age 17 and after initially being sad, he really embraced it. Jason and his wife have explored various options that could help Jason look younger without hurting his options as an actor. At one point, Jason even considered shaving his head, but this was not a viable option as it might limit his acting roles, so he began looking at ways to get some of his hair back.
Of course, Jason thought about grafts and implants. However, he couldn't trust these methods to be good enough for him. And with implants or grafts he would have lost the option of playing the truly bald characters. So he started looking for a solution that would fit his personality and complement his career. He decided the solution would be to get a customized hairpiece.
Being a Hollywood celebrity, Jason wanted to work with only the best hair system company in the world. So he chose Farrell Hair Replacement. He wanted something that would give him some hair but wouldn't limit his ability to play balding characters. This was a challenge that he threw to Farrell Hair and Farrell Hair was able to meet this challenge with ease, giving him his desired looks.
Farrell Hair feels truly honored that Jason Alexander has spoken out about wearing a hair system designed by Farrell Hair. It was an exciting experience for the hair system company to help him get a truly natural look.
When Jason first came to Farrell Hair, he laid out the challenge to the hair system provider. In his Daily Mail interview he explained that the reason it looks thin is that he challenged his designer to make him a piece that would look very similar to the way he did 10 years ago. That is why he now looks like a guy who is beginning to lose his hair.
Some of Jason's fans mistakenly speculated that he was using a mysterious Chinese cream to restore his hair. However, he explained the whole thing, "What you see on my head is a really good, semi-permanent hairpiece. By semi-permanent I mean that I can wear it constantly for weeks at a time, if I so choose. I can swim, shower, work out - whatever. It stays on."
It is true that Farrell Hair has been working with Hollywood celebrities for a long time, but Jason Alexander has made a special difference. Farrell Hair is extremely grateful to him for telling his fans everything about his new hair system. His mind blowing acknowledgement of hair systems came in one simple sentence "I'm still bald, I just wear a toupee" as he was explaining the mystery of his reappearing hairline. Hats off to Jason!
About Jason Alexander
Jason Alexander is a well-known Hollywood celebrity. His real name is Jason Scott Greenspan. He adopted his stage name while he was still in high school in New Jersey. He always knew about his potential as an actor and soon got a chance in Broadway plays and movies. After that came the hit TV series Seinfeld. Jason also directs and produces films. He is in his early fifties and still rocking.
About Farrell Hair
Farrell Hair is a leading provider of customized hair systems. Farrell Hair's goal is to change people's lives by providing them with their dream hair systems. This hair system company is trusted by celebrities and non-celebrities all over the world for its quality and affordability. For more information about Farrell Hair Replacement, you can check out http://www.farrellhair.com.
To watch the video interview, visit http://farrellhair.com/jasonnew/index.php
###