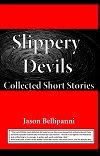 Jason is a dazzling writer. Sharp-witted, linguistically interesting, and wholly original. He has enormous talent...
Manchester, New Hampshire (PRWEB) March 30, 2013
Slippery Devils is a rich and eclectic collection of short stories by the award-winning writer Jason Bellipanni. Widely regarded as one of the country's most unique literary talents, Bellipanni's wide and varied exposure has resulted in a growing fan base of loyal supporters across the globe.
With a strong voice and a masterful manipulation of language, Bellipanni has created utterly original stories that appeal to short story fans across the literary landscape. This impressive volume of stories mines a vein of perception that runs through a variety of genres, evoking thought and emotion with equal skill. From beginning to end, Slippery Devils beats with the rhythm of an artistic triumph; the sound will reverberate long after the reader has turned the final page.
SLIPPERY DEVILS: FLIPBOOK PREVIEW
"The Last Elf-Mite most definitely did surprise me, like some skewed but ordinary Harold Pinter domestic episode eccentrically reworked by Isaac Asimov. I found it courageous and fastidious and unflinching in its courage. A writer well worth watching, I feel."
**PATRICK MCCABE** author of the Booker nominated novels The Dead School and The Butcher Boy
"Jason is a dazzling writer. Sharp-witted, linguistically interesting, and wholly original. The intellectual concepts behind his work are formidable and impressive, but they are woven into thematically rich but accessible narratives. He has enormous talent..." **DEAN BAKOPOULOS** Please Don't Come Back From the Moon, My American Unhappiness
"As Editor-in-Chief of The Cream City Review, I can tell you with absolute certainty that Jason's work is not only refreshing and cutting edge, it's topnotch and represents some of the best new writing I've seen. He's a writer to watch." **DR. KAREN AUVINEN**, University of Wisconsin
"I deeply admire the completely fresh approach which Jason uses in his short fiction. Each sentence contains an extreme musicality; each word is a volt. His work has the patina of metaphor without too-loose lyricism." **DR. ALEXANDRIA PEARY** Salem State University, Lid to the Shadows, Fall Foliage Called Bathers and Dancers