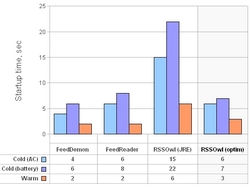 Many people still think Java is slow, and perceivable application startup delay is one of the main reasons for that.
Novosibirsk, Russia (PRWEB) July 7, 2010
Excelsior LLC, an authorized Java technology licensee and JVM vendor, today announced the general availability of Excelsior JET 7.2, the latest update to its compliant Java SE 6 implementation. This new release helps Java developers optimize application startup time, putting their Java products on par with native rivals.
Many people still think Java is slow, and perceivable application startup delay is one of the main reasons for that. Desktop Java features such as instant splash screen display are just attempts to subdue the symptoms instead of curing the disease. The problem needed a true solution.
Ahead-of-time (AOT) compilation of portable Java bytecode down to optimized native code has always been the distinguishing characteristic of Excelsior's Java SE implementation, Excelsior JET. Conducted prior to deployment, on a developers system, AOT compilation effectively removes bootstrap overheads inherent to "traditional" JVMs and, in conjunction with implemented I/O optimizations, makes Java applications start as fast as their native rivals.
The company also published a comparative study backing the above statement. In it, a popular Java RSS feed reader is compared with two native Windows applications providing similar functionality. The optimizations implemented in Excelsior JET 7.2 resulted in 2x to 3x startup time improvement over the standard JRE, making the Java reader start as fast as the native ones.
Excelsior JET 7.2 also features faster AOT and JIT compilers, usability enhancements, and support for the latest Java SE version.
A fully functional, time-limited evaluation copy of Excelsior JET 7.2 is available for download.
About Excelsior JET:
Excelsior JET is a certified Java SE technology implementation designed to help developers accelerate their Java applications, secure them fully against decompilers, and distribute Java software products without the need to use the JRE.
Excelsior JET 7.2 supports Java SE 6 on Microsoft Windows and Linux operating systems running on 32-bit Intel x86 and compatible hardware. The optimized applications also work in 32-bit compatibility mode on 64-bit x86 systems.
Full pricing and licensing information is available online.
About Excelsior:
Excelsior LLC provides advanced Java-compatible solutions and software development services with particular focus on optimizing compilers, high performance runtime environments, and the Java technology. Excelsior is a Java Authorized Licensee. The flagship product of the company, Excelsior JET, is a complete solution for acceleration, protection, and deployment of Java applications. Founded in 1999, Excelsior is headquartered in Novosibirsk Scientific Center, Russia. To learn more about Excelsior, visit http://www.excelsior-usa.com.
Please feel free to request a full version for review.
Press Contact:
Dmitry Leskov, Director of Marketing
Excelsior LLC
dleskov(at)excelsior-usa(dot)com
+1 (408) 786 5641 skypein
# # #