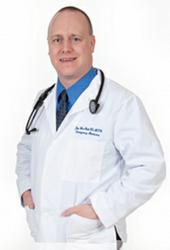 Janesville, WI (PRWEB) September 14, 2012
Javon Bea President/CEO and Mercy Health System is pleased to welcome Dr. James J. MacNeal, DO, MPH, as its new associate medical director of emergency medical services (EMS). Dr. MacNeal is responsible for providing EMS medical direction to EMS providers in both Rock and Walworth counties.
His special interests are disaster medicine, studying triage techniques, serving as a federal medical officer, and emergency and trauma medicine.
"I began my career in emergency medicine as a paramedic. This background in pre-hospital medicine gives me a great appreciation of what an EMS system does daily. Training is a fundamental component of a strong community EMS system, and I enjoy educating all EMS providers. Mercy has strong EMS leadership and I look forward to fostering growth of our pre-hospital medical systems."
Dr. MacNeal holds a medical degree from Edward Via Virginia College of Osteopathic Medicine, Blacksburg, VA. He served his residency at Akron General Hospital, Akron, OH. He also completed a fellowship in emergency medical services at Yale University, New Haven, CT.
For more information about Dr. MacNeal, please call (608) 756-6182.