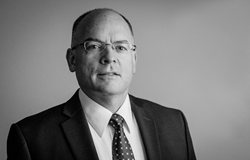 Madera, CA (PRWEB) April 09, 2014
It has been announced that Jay Varney, a candidate for Madera County Sheriff, will be featured at several public forums throughout the month of April, 2014. There will be four individual forums held in various locations throughout the county, each of which will afford Varney the opportunity to discuss his ideas and views about the future direction of the Sheriff's Office. These forums will also allow the Madera County community to address questions to Varney and his candidacy.
The first forum, slated for Tuesday, April 8, will take place in North Fork, at the North Fork Town Hall at 5:30 pm. The second forum is scheduled for Monday, April 14 at 6:30 pm, and will be held at Ranchos Middle School in Madera Ranchos. The penultimate forum for April will take place three days later on Thursday, April 17 at 6:00 pm, with the location set for Oakhurst Community Center in Oakhurst. The final April forum will be held in Chowchilla, the city in which Varney serves as Chief of Police, on Thursday, April 24 at 6:00 pm at the Chowchilla Senior Center.
Varney, 53, has served for over 10 years as the Chief of Police for the City of Chowchilla. Varney boasts over 30 years of experience in law enforcement, over 18 of which have been in leadership positions. Currently serving as the Chief of Police in Chowchilla, Varney has also served in the police departments of Dallas, Texas, and Lansing, Michigan. From 2009 to 2011 Chief Varney accepted the challenge of working as both Acting City Administrator and Chief of Police for Chowchilla, helping lead the City away from the brink of bankruptcy and towards a solvent future.
Varney has never relied on his experience alone, as the candidate for Madera County Sheriff has consistently pursued opportunities for higher education throughout his career. In addition to a earning his Master's degree from Fresno State in 2013, Varney also earned a graduate certificate in Criminal Justice Education from the University of Virginia while attending the FBI National Academy, a prestigious program that is by invitation only. While serving as Chief of Police, Varney has also earned an Executive Certificate on Peace Officer Training Standards (POST) from the California Commission.
For more information about Jay Varney for Madera County Sheriff visit http://JayVarney4Sheriff.com. Authorized by Varney For Sheriff/Coroner 2014 FPPC#:1361251.