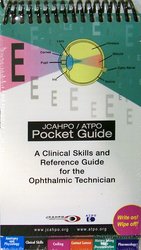 The health care industry is full of dense medical text books. While these resources are necessary in allied health education, we envisioned a tool that technicians could use on a daily basis
St. Paul, MN (Vocus) November 11, 2009
Compact, informative, and convenient are just a handful of words that describe the newest resource for eye care professionals. In October, The Joint Commission on Allied Health Personnel in Ophthalmology (JCAHPO), and the Association of Technical Personnel in Ophthalmology (ATPO) proudly launched a new tool for ophthalmic professionals: The JCAHPO/ATPO Pocket Guide: A Clinical Skills and Reference Guide for the Ophthalmic Technician.
In response to a need for quick reference information for ophthalmic professionals, JCAHPO and ATPO teamed to create an innovative product. The result is the JCAHPO/ATPO Pocket Guide: an instructive, compact resource that includes 12 color-coded sections, simple tab navigation, and practical content.
JCAHPO President William H. Ehlers, MD, observes that creating a training resource to reflect the needs of today's eye care professionals was vital.
"The health care industry is full of dense medical text books. While these resources are necessary in allied health education, we envisioned a tool that technicians could use on a daily basis," said JCAHPO President William H. Ehlers, MD. "By design, the Pocket Guide is a resource that technicians can keep in the office or on their person, rather than referencing through large text books for answers."
The Pocket Guide delivers relevant content seamlessly in a compact 8x4 size and 7 oz weight text. Content reflects practical, day-to-day information that personnel commonly utilize, with a chapter list covering ophthalmic fundamentals:

Anatomy and Physiology
Clinical Skills
Coding
Contact Lenses
History Taking/Triage/Documentation
Pharmacology
Safety and Infection Control
Special Tests and Procedures
Surgical
Terminology
Optics
Reference and Tools
It is also valuable as an instructional resource for newcomers. Entry-level personnel will discover explanations to complex models and principles of eye physiology in minutes. Detailed illustrations, photographs, and diagrams make difficult concepts straightforward. Terminology throughout the text is also clearly outlined, including a whole section devoted to terms and definitions.
"This resource is long overdue for eye care professionals," says JCAHPO Chief Executive Officer (CEO) Lynn D. Anderson, PhD. "Physicians, administrators, and technicians are eagerly utilizing the Pocket Guide, and we are excited at the implications for ophthalmic allied health personnel," she added. "We foresee the Pocket Guide greatly assisting in training, confidence, and performance efficiency for OMP."
The JCAHPO/ATPO Pocket Guide is available for purchase through the JCAHPO Bookstore.
###