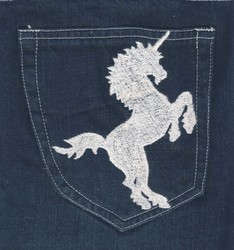 Our clients tell us what they want, and we are dedicated to providing it
Los Angeles, CA (PRWEB) October 7, 2008
What if the next time you went shopping for jeans you could specify every possible detail you wanted: the fabric, the style, the cut, the thread color, trims, belt loops, pockets, rips, patches, even the the embroidered designs on the back pockets? It's no longer a dream. A big change has come to the universe of fashion: consumers today are able to custom design their own jeans down to the last detail of finishing, and for a reasonable price.
Make Your Own Jeans, the innovator of made-to-measure at affordable prices, creates jeans by integrating internet-enabled up-to-the-minute supply chain strategies with a proprietary system of unique customer measurements. Now the company has announced "Add-Ons", a category which offers yet another dimension of personalization available to its clients.
With its new "Add-Ons" feature, customers can choose from a multitude of accessories, such as thread color, belts, embroideries, distressing, elastics and additional pockets. Customers may also include a tummy panel and gussets, to ensure the perfect fit and more support.
One of the options of this latest innovation allows the addition of bespoke hand-embroidered labels featuring the customer's own "brand" name. In essence, customers can now create their own private-label fashion. "The possibilities are limitless," says founder Harry Shahari, "And making your own jeans is a unique and incomparable experience. We understand that this is what our customers seek, and Add-Ons is a response to this trend, With the new features offered, clients can no doubt create something they'll be very proud of." The company already delivers several styles of jeans in more than 110 different fabrics.
Couture-watchers over the past two years have responded to a similar trend in high-end luxury, innovating a category popularly called the private label. Designers who once provided only ready-to-wear products now offer custom-built fashion for their best-paying customers. Makeyourownjeans enables its customers to have the same degree of control over their final fashion statements. The only difference is that the process takes 2-4 weeks for the custom garments to ship, and it is substantially less expensive than big-name apparel brands.
Make Your Own Jeans, a leader in creating custom jeans, has seen its products featured in publications such as Oprah's O Magazine, American Way, Craft, and the Tampa Tribune. Client satisfaction and positive ratings have earned the company great repeat business. Make Your Own Jeans continues in its quest to assist clients in designing a pair of jeans that compliment not only their body, but their personality as well.
"Our clients tell us what they want, and we are dedicated to providing it," Shahari says. "We view every customer as an individual, with unique needs, style and measurements. And we try to make every customer experience personally rewarding. That, and always coming up with new ideas for expressions in fashion is the key to our success."
For more information see http://www.MakeYourOwnJeans.com
###