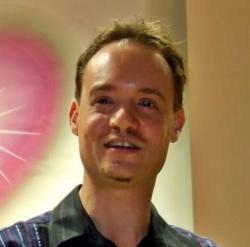 The sound of special tuning forks and crystal and Tibetan singing bowls… can dissolve tension, entrain brainwaves through binaural sound, balance our chakras, and aid in healing.
Miami, FL (PRWEB) March 06, 2012
The Hearts Center spiritual community will be gathering spiritual healers and speakers from across the U.S. in Miami the weekend of March 23-25 for a spiritual conference: "Beyond Awakening: Love, Heal and Thrive: An Experience of Unity and Light on the Path." The conference begins at 2:00 p.m. Friday the 23rd at the Mariott Dadeland Hotel, 9090 S. Dadeland Boulevard, Miami.
The conference will have key teachings and chakra blessings from ascended masters through David Christopher Lewis, spiritual director of the Hearts Center and messenger for the Great White Brotherhood. Besides Jed, other locally and nationally know and gifted spiritual healers, shamans, clairvoyants, musicians and authors will be presenting, including: Donna Ferri, Felipe Alfonso, Theraveda monks, Junia Gail Imel, the Magnified Healing group and Wayne Purdin.
Jed Shlackman is a licensed mental health counselor and hypnotherapist as well as a Reiki master and sound healing practitioner. Jed has a master's degree in counseling from the University of Miami and has been providing holistic therapy services in private practice since 2003. Jed has been exploring spirituality and holistic wellness since completing graduate school in the 1990s and presently offers group workshops and private therapy sessions in Miami, Florida. Jed is also author of the metaphysical guidebook "Consciousness, Creation, And Existence: A Guide To The Grand Adventure," and writes articles as the Miami Holistic Health Examiner for Examiner.com.
Jed will perform a "Vibration/Sound Healing Meditation" Friday evening starting at 8:00, using the sound of special tuning forks and crystal and Tibetan singing bowls for clearing and balancing chakras. The vibrations of these devices produce in listeners sonic bliss, stress relief and transformation. Jed discovered the power of singing bowls during his participation in meditation events. Instantly affected by the bowl sounds, he began exploring how sound resonates through our body's energy systems and through our chakras to positively shift our consciousness. He was attracted to the crystal and Himalayan bowls as tools for soothing and harmonizing our subtle energy centers.
Jed began using vibrational sound healing in his professional practices, observing how it can dissolve tension, entrain brainwaves through binaural sound, balance our chakras and aid in healing. He learned that our DNA and cells use both light and sound to communicate and transfer information.
Later in the conference, on Sunday afternoon, there will be an entertaining interactive session with author and National Alternative Religions examiner Wayne Purdin on "The Wonderful Wisdom of Oz" that will examine L. Frank Baum's popular folktale in the light of ascended master teachings. It will show conferees how they can, like Dorothy in "The Wizard of Oz," transform their thoughts and feelings through purifying and balancing their heart, will and mind with the violet flame and other spiritual techniques so that they can ascend and go home.
Finally attendees will unite in a "Circle of Oneness" for ascended master Melchizedek's blessing and challenge to "Be Initiates!" closing and sealing the weekend event. Everyone will be invited to meetup and continue co-creating their experience of heartstreaming with their angels and the ascended masters in a growing Miami heartfriends community.
The Hearts Center Community connects many heartfriends worldwide whose mission is to realize personal enlightenment and share the ascended masters' love-wisdom teachings throughout the Earth. The community believes that each soul has a personal connection with her Higher Self. With the ascended masters as examples of selfless living, each individual may advance in personal discipleship toward the goal of the ascension through study, devotion and service to life.
Join the ascended masters and many fellow spiritual seekers in Miami from March 23 through 25 at the Mariott Dadeland Hotel, and go Beyond Awakening to co-create together an experience of unity and light through heartstreaming with each other, the angels and ascended masters, and through meditation, Magnified Healing, healing sound and radiation, song, movement and mantra.