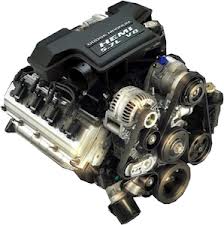 The new online price generation system offered by this company is now helping eliminate pricing issues.
Philadelphia, Pennsylvania (PRWEB) March 05, 2013
Jeep is one of the best-selling brands for the Chrysler corporation. The Cherokee has remained a popular SUV since its first introduction in the mid-1980s. Locating an engine replacement for this vehicle series will now be easier for buyers. The Jeep Cherokee engines inventory has been upgraded at the UsedEnginesforSale.net company. The 3.7, 5.7 and SRT-8 Cherokee engine inventory is now available for sale. Details can be found online at http://www.usedenginesforsale.net/jeep/used-jeep-engines-for-sale.
Several variations of motors were used inside of the Cherokee. The 4.0 engine was one of the most requested for this SUV. From the original inline 6 to the newer SRT-8, locating motors for these vehicles can be problematic for some buyers. Purchasing brand new units can often exceed the value of a preowned vehicle.
Pricing often varies between dealerships and discounts are not always supplied to the public. The new engine upgrades in the Jeep inventory online are now paired with a new lower price for buyers.
Shipping a motor from one state to another is unlike a traditional retail purchase. Motors often weigh hundreds of pounds and require special freight handling by companies able to transport engines. The UsedEnginesforSale.net company has now removed the cost of shipping engines to buyers.
This cost cutting measure is designed to lower the purchase and shipment price for installation or resale activities. The new erasure of shipping costs is now in place and applicable to Jeep inventory as well as other automaker engines in stock.
Locating accurate pricing is one part of the used engines industry that can frustrate some buyers. Not all retailers display pricing online or publish the actual selling price. The new online price generation system offered by this company is now helping eliminate pricing issues.
Any customer can now receive pricing for any preowned motor in stock at the click of a button. This delivery method is now one of the primary ways customers receive immediate price quotes online. The toll-free customer number remains available for callers to use offline.
About Used Engines for Sale
The Used Engines for Sale company is a retailer and distributor for preowned automobile engines. This company has built a network of trade industry clients as well as vehicle owners. The discount price measures selected by this company have helped to gain attention in the secondary auto market. By attaching generous warranty protection with every sale, this company is now setting a higher standard for preowned engine sellers. The Used Engines for Sale company offers full customer support online and by its toll-free information line to customers before and after sales are processed.