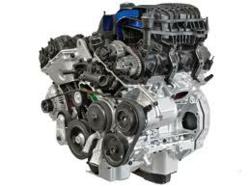 This new price is applicable to the Pentastar, Hemi and PowerTech engines used for this SUV series.
Akron, Ohio (PRWEB) March 15, 2013
Jeep has expanded its vehicle manufacturing under the leadership of Chrysler. Vehicles like the Grand Cherokee have emerged from research and development to be sold worldwide. Replacement engines for these vehicles are normally located through dealerships. The UsedEngines.co company is now supplying lower price structures for its Jeep Grand Cherokee engine inventory. This new price is applicable to the Pentastar, Hemi and PowerTech engines used for this SUV series. Details about this Jeep inventory can be found online at http://www.usedengines.co/jeep-2.
The Grand Cherokee was an upgrade created by Jeep for the standard edition Cherokee in 1993. This vehicle included a larger engine as well as interior amenities not found in standard models. The editions produced after this period of time have focused on larger and more powerful engines.
The Hemi, Pentastar and PowerTech engines were developed by Chrysler and used in this vehicle series as well as vehicles in the Dodge family. This range of I4, V6 and V8 motors used in the Grand Cherokee are now part of the discounts and expedited shipping now offered through the Used Engines Co.
The expedited shipping program was recently announced by this company to help provide faster shipments when orders are placed. The expedited shipment methods are in combination with the no cost shipping incentive in place since the summer of last year. These measures have been recently reviewed for continuance this year and have been extended.
This new extension is in place to help average vehicle owners and trade industry clients receive shipments within a few business days for no extra cost. These measures apply to the entire preowned company inventory.
The used engines quote system now in place by this company is helping to generate pricing for customers during and after the company shipments have closed each day. This quote system provides a direct link to the company inventory offline. The pricing is automatically updated and generated to better serve customers.
The manual processing offered through the toll-free quote number system remains in place as one alternative to this new virtual price delivery method. These methods combined are now responsible for immediate delivery of customer engine quote requests.
About Used Engines Co.
The Used Engines Co. frequently updates the inventory available at its warehouse to ensure customers receive better access to replacement engines. Ford Motor Company, General Motors, Toyota and other automaker units are stocked by this company at discount prices. The low mileage motors that are offered for sale are shipped without charge directly to customers placing orders through this company. The Used Engines Co. supplies two-year protection with each engine sale to offer additional coverage to buyers replacing engines. This warranty coverage and free shipping incentives are two new customer programs announced this year.